4 Ways To Support Women In Their Most Important Endeavor (Plus 3 Mindful Outfits That Don't Have The Word Maternity In Them)
Posted on January 17 2019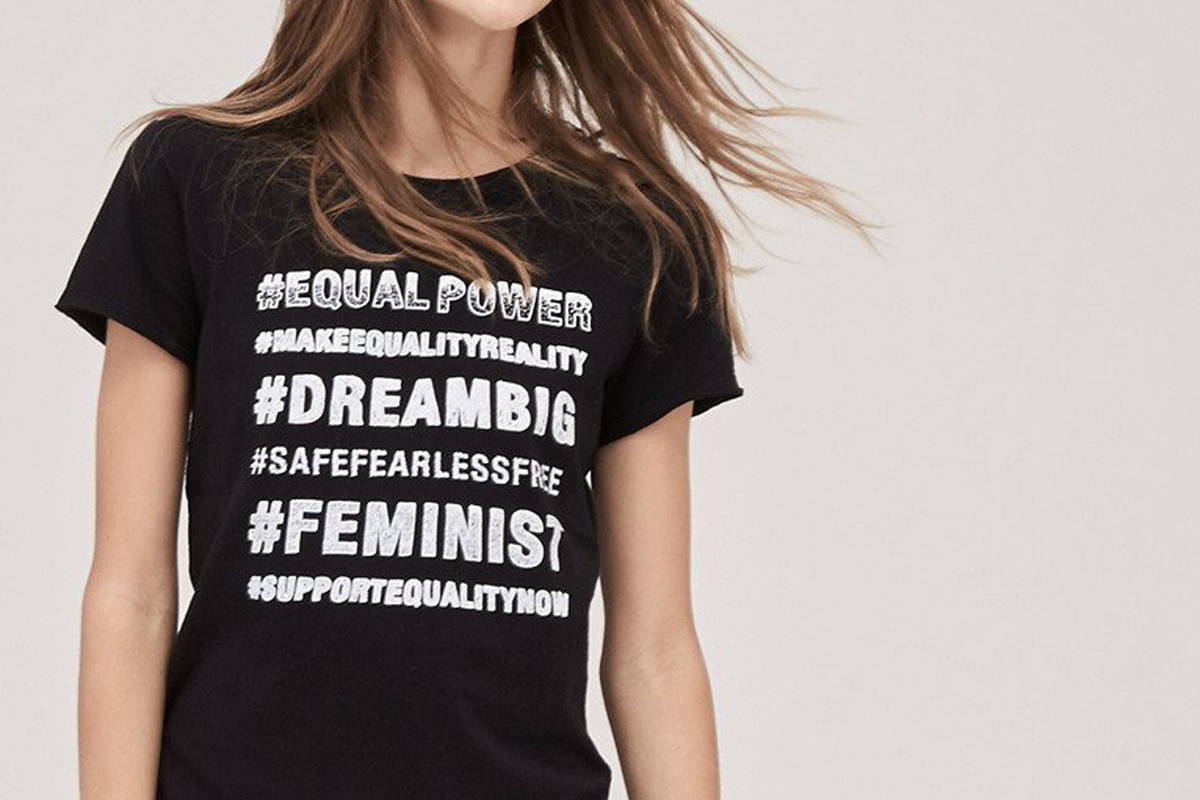 From the moment I publicly announced my pregnancy, the kindnesses started to pour in. Cards, gifts, book suggestions, endless congratulations, sincere offers to help with anything I might need. It's been a wonderfully heartwarming experience, this feeling of having something in my life so celebrated, of having such a huge community – herd - of support.
But it's also made me a bit sad, seeing this stark contrast between the ways that I as an expectant mother am treated versus the ways that I as an entrepreneur am treated.
I do not want in any way to diminish what pregnancy means to others. I know many people who have endured many years, heartbreaks, and costly sacrifices in attempts (sometimes successful, sometimes not) to become parents. I know many people still longing for (any, or more) biological children, and many people for whom being a parent was or is always what they wanted most in their life. But for me, that was never the case. Biologically motherhood was not something I aspired to. Getting pregnant was an accident – an accident I am very fond of, but an accident none-the-less.
So pregnancy was not something I accomplished.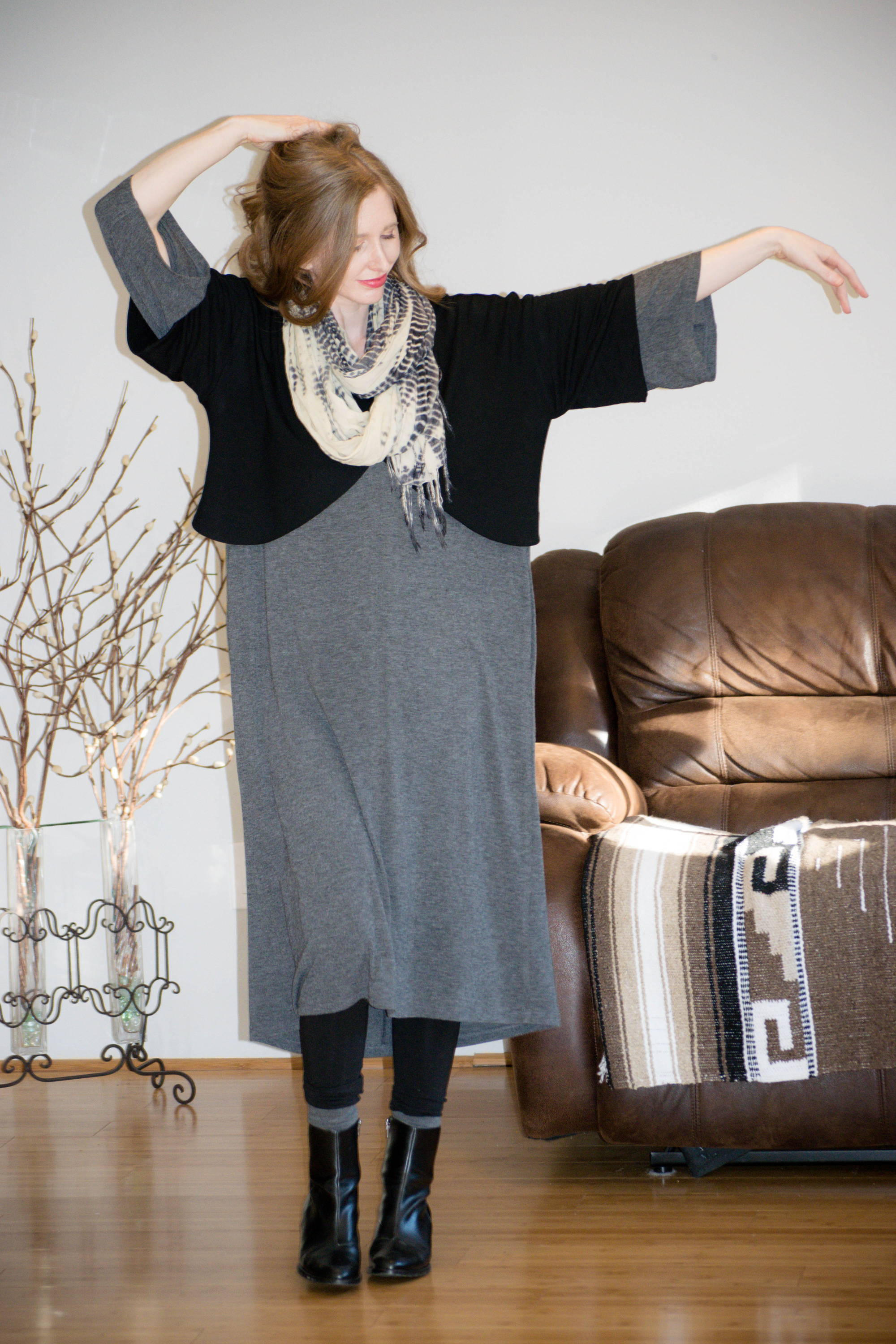 MY CURRENT ENDEAVOR:
Create a mindful, minimalist wardrobe for my changing body, using as much from my closet as possible.
Previously owned:
Vest: Devinto
Leggings: Devinto
Scarf: Bead & Reel
Boots: Bhava
Newly added:
Dress: PERI

(all vegan, all fair trade, and all from women-owned businesses!)
A little over four years ago I started Bead & Reel. Prior to that I had spent almost a year and a half planning, creating, building it. I put my entire heart, soul, savings, future into it. I shifted careers and left my job for it. I fought a heart-wrenching legal battle to save it and keep it. And I've continued to pour everything I have into it since then, through many struggles, many challenges, many defeats – and many wonderful successes.
Starting a business like Bead & Reel, continuing a business like Bead & Reel, growing a business like Bead & Reel – that is what I consider my greatest accomplishment so far and the endeavor that I feel is truly most worthy of celebrating in my life.
And yet, even though this has been my truth for years, it hasn't been something that most other people have understood. I'm not even sure that the majority of my friends and family even know what exactly I do at Bead & Reel. When I originally announced that I had launched a new company, nobody gave me cards, gifts, book suggestions, endless congratulations, or sincere offers to help with anything I might need. My launch party was a lovely but small affair, whereas my mom is (already, of course) planning my baby shower and genuinely concerned she won't be able to find a local venue big enough because so many people want to attend.
And don't get me wrong – this reaction to my pregnancy is so sweet, and I adore that there is so much excitement around this new journey in my life, around this new life, but, I wish that what I do with my career, or my spirituality, or my education was (as least) as celebrated as what I do with my body and relationship status.
Women throughout history have been through immense struggles - and in some parts of the world are still working - for the ability to seek an education, own a business, own a house, choose when or if to have children, choose when or if to marry, even just to vote, and I think it's important to remember that yes, pregnancy is totally exciting, but each of these hard won victories might be considered more exciting to some women, too.
So, here are some of my ideas in how to support women in whatever is most important to them, not necessarily most important to each of us.
(as always, consider this mostly a note to myself)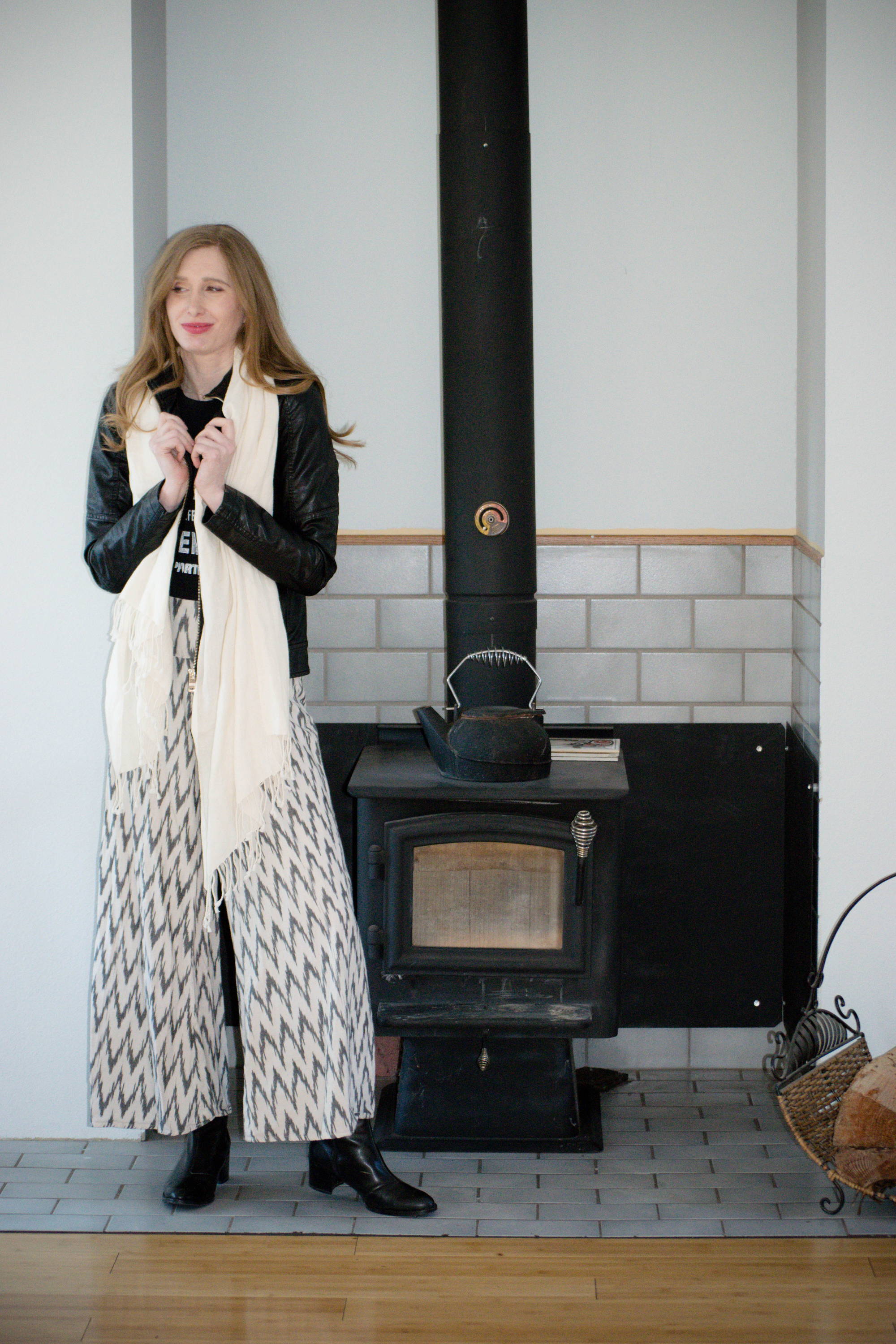 ASK
This is easy for me to forget but: we can just ask people what really matters to them so we can know what would be most meaningful to participate in. Something like, "hey, I would love to know what milestones are most important in your life so I can be there for you when they happen." Or, "hey, I saw that you got an award at work/got engaged/finished your master's degree/had a significant loss and would love to know what that means to you."
You might be surprised that something you view as a big event isn't that important to someone, or, something you didn't give much thought to might be the most important thing to someone.
This curiosity into the hearts of others also helps us deepen our relationships and deepen our understanding of the rich diversity of humanity across passions, goals, and accomplishments.
CELEBRATE
We don't have to have the same priorities or life experiences to share in those of others. When someone starts or completes something which you know is important to them – whether that's around education, marriage, parenthood, career, or even something like healing a deep wound – it can be so impactful (and simple!) to send a congratulatory text message or social media message or card or email just letting them know that you see what they created/built/went through/survived.
Being human usually requires a lot of work, and often a simple acknowledgment is truly one of the most meaningful things we can give each other.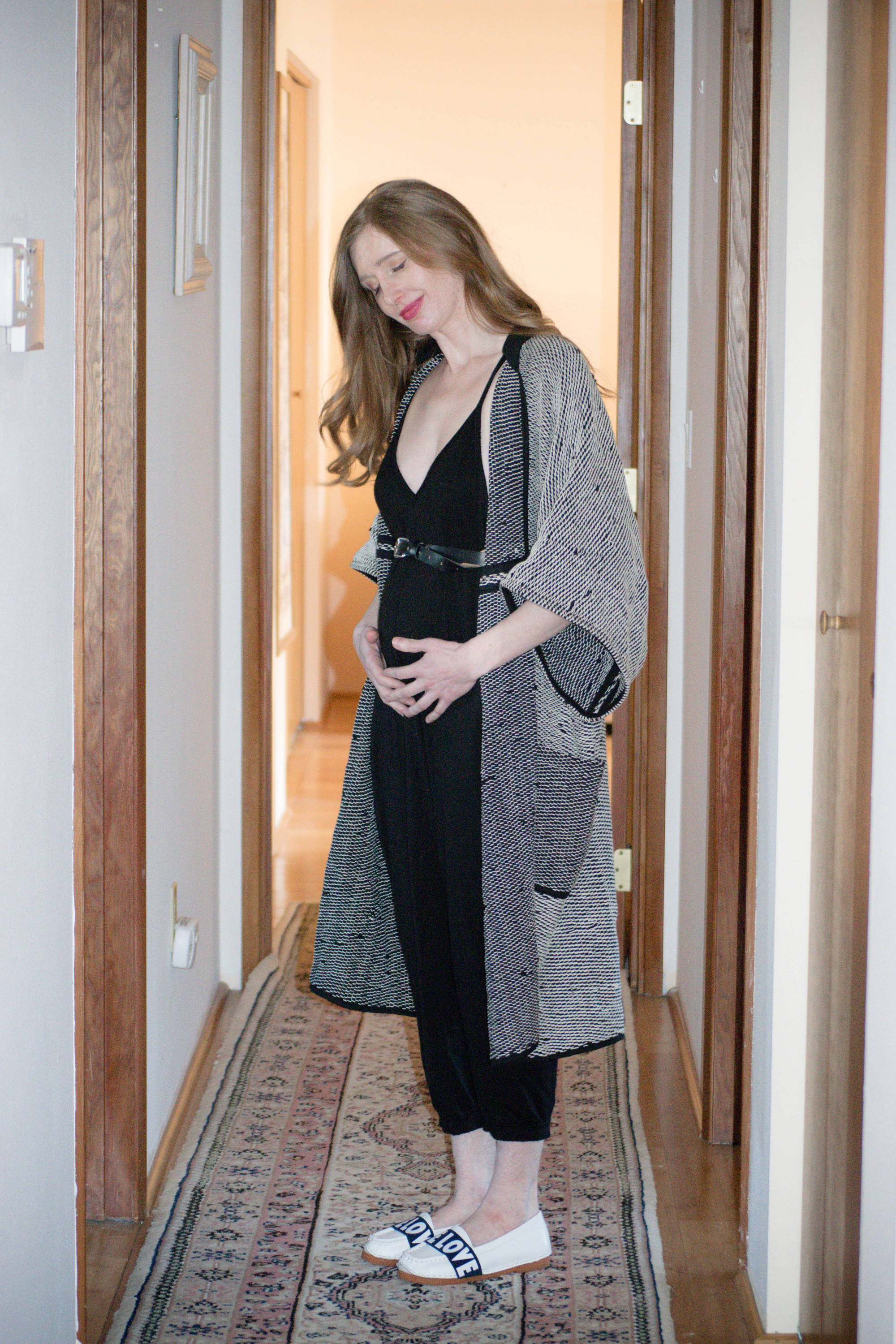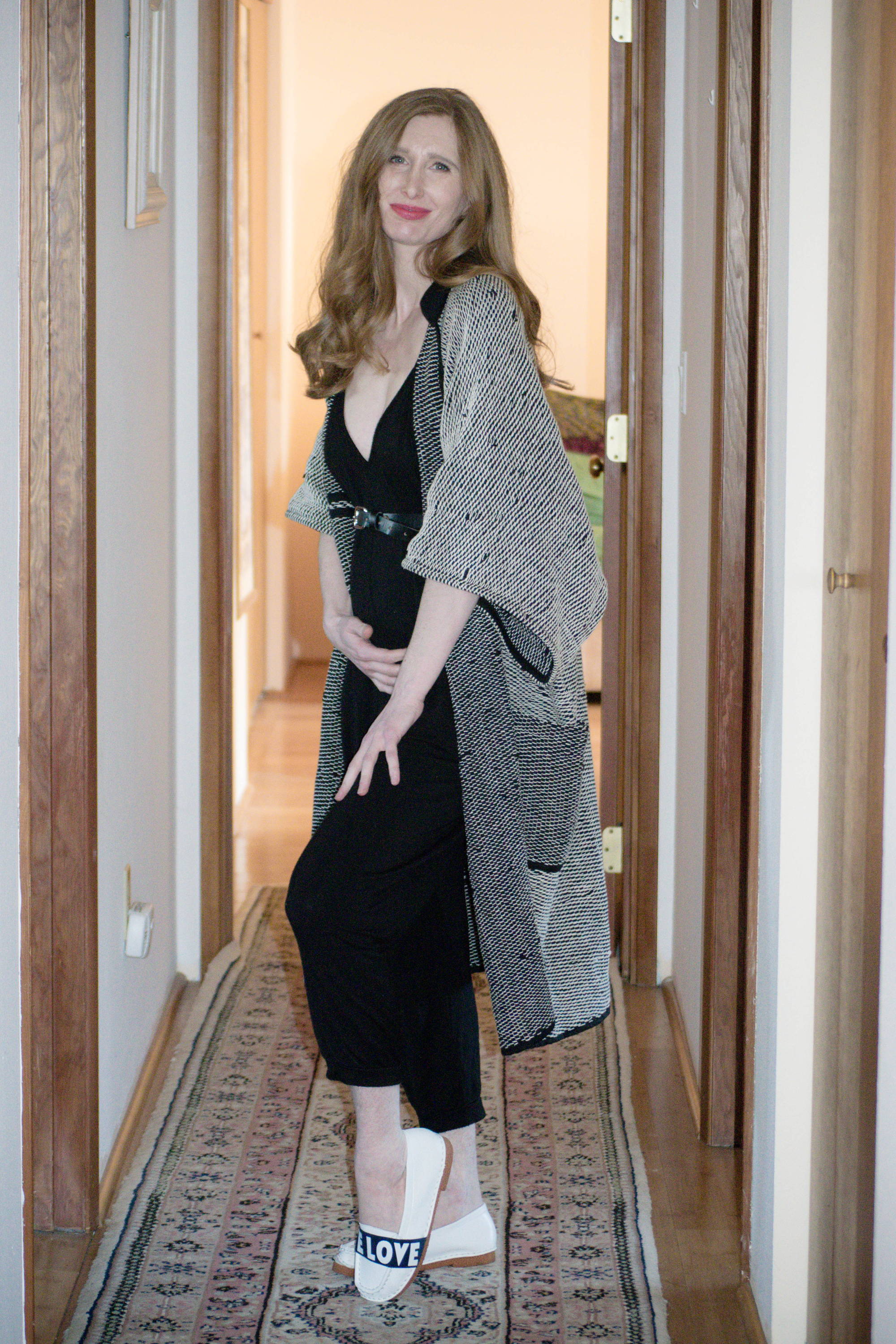 SHARE
I have honestly really appreciated all of the solicited and unsolicited suggestions I've been getting about pregnancy and parenthood like books, clothing brands, baby carriers, midwives, and everything else you can possibly imagine. But this is also genuinely the first experience I've ever had like this. None of my other life events – multiple college graduations, careers, homeownership, businesses, losses – have ever generated this level of participation. And I wish they would have! In every new step in life, it's so helpful to have resources shared with us by those we most love and trust, even if it's something very simple.
And, if someone is experiencing something you haven't experienced yourself and you don't know what to appropriately share about it, feel free to ask a friend or family member who has been through something similar – they likely have some ideas, and it's another beautiful opportunity to connect with others and grow our vocabulary and understanding within this human experience.
STAY
One of the challenges I found as an entrepreneur, or through my times of deep grief, or have heard from many of my friends who are parents is that even if people are excited about something in the beginning, they often become less involved in your experience as time goes on.
But the experience doesn't stop just because the newness goes away, so I think perhaps one of the greatest things we can do to support the endeavors of others is to make a point to remain connected. Maybe mark special dates on your calendar so you can send a card at the 1 year or 5 year anniversary of something (both the joyous and sorrowful), or check in every so often on how a new transition is going.
I know we all have busy lives, and don't really need one more thing to keep track of, but I really think it would make such a big difference if we each made more of an effort to continue celebrating and supporting those we love, even after the excitement or shock of announcements have faded away.
What are your favorite ways to support the endeavors of the women in your life?
"The human soul doesn't want to be advised or fixed or saved.
It simply wants to be witnessed — to be seen, heard, and companioned exactly as it is."
- Parker Palmer -
---
---
A note on ethics in writing: 
I may sometimes (but not always) use affiliate links in my blog when talking about products or services that I truly suggest, which means that I may get a small commission if you end up buying or trying something through a link I share. This is one of the ways that I continue to fund the stories and programs that Bead & Reel creates and supports.
A note on comments:
I love connecting with you through your comments below, however I am unable to respond through the current system. Please know your comment is read and acknowledged, even if you don't hear back.
If you find yourself feeling judgmental, unhappy with, or offended by my photos or writing I invite you to use this as an opportunity to channel your time and energy into creating something in your own life and space instead of inserting your opinions into mine. It is so much more impactful to put your focus into supporting something you agree with versus criticizing something you don't.
Comments which detract from the wellbeing of the Bead & Reel community and its members will be deleted.