Layers: A Guide to Wearing & Caring
Posted on March 08 2019
One of the things I've been struggling to navigate lately (and apparently for a while now, based on many blog posts I've written on this topic) is this sense of black/white, right/wrong, one-dimensionality that it seems so often people and organizations and situations are reduced down to. It's like there's no room left for nuance, complexity, or…. layers.
And I mean don't get me wrong: I have a very (loudly) defined set of values which I consider "correct," but I also find that the older I get and the deeper I go into my internal and spiritual and entrepreneurial journeys, there remains very little that is inherently true – especially about others.
All of us view everything from the lens of our current mind – our current feelings, thoughts, emotions, experiences, projections, and assumptions, which, if you pay attention you may notice are always changing. Your lens today may be different than your lens tomorrow or in a year, or ten years or maybe even just after a good meal or a good night's sleep. And while our minds are extremely helpful in helping us navigate this life and world, they also aren't the most reliable source of what is actually happening in this life and world.
"We don't see things are they are, we see them as we are."
- Anaïs Nin -
Meditation is a tool that helps me continually grapple with this challenge and so is veganism, since one of the advantages (?) of being vegan in a non-vegan world (once I got over my obligatory "angry vegan" phase which we all go through) is that I had to quickly learn that it would be nearly impossible to have any friends, family, or hope in humanity if I saw people as just one of their facets: what they eat.
Do I think it's terrible that so many people who I love participate in and pay for the deaths of animals? Honestly: yes, it totally breaks my heart. But do I think they are terrible? No. And so I've had this big opportunity to spend a lot of time learning to live and love within this dichotomy, of learning to view people as more than just some of their choices or actions or labels.
And while it wasn't and isn't always easy, I think having to go through this process and come to this conclusion has been a great gift to me, especially in these divided, defensive, righteous times.
LAYERS FOR VERSATILITY
One of my favorite ways to layer is to turn traditionally summery styles into cozy wintery ones so you can wear them all year long!
Turtleneck: Synergy
Jumpsuit: EcoVibe Apparel
Necklace: Kind Karma Co.
Boots: Bhava
Mug: Elisha C.
all fair trade + vegan of course!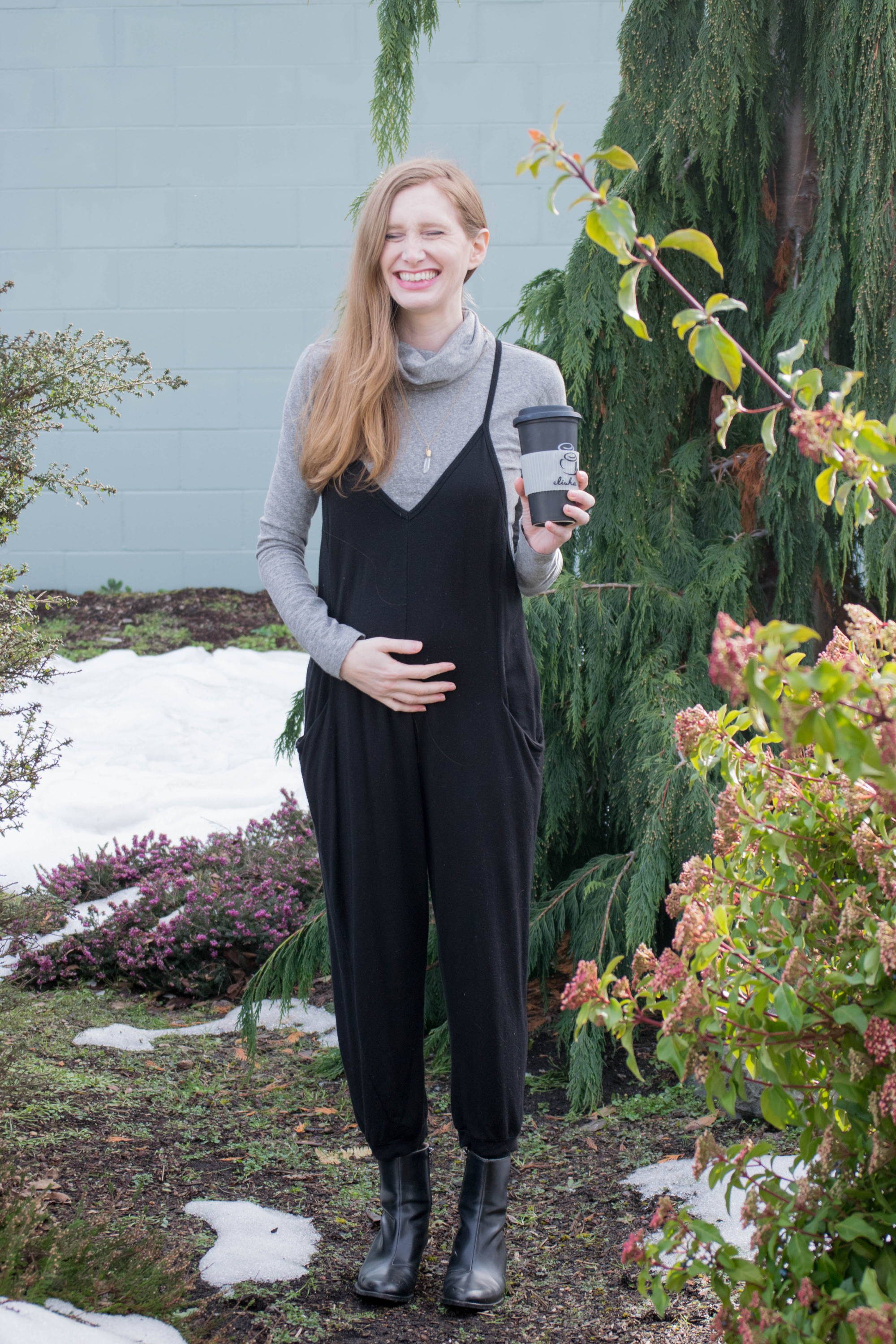 And so I'd invite you to practice this openness to layers as well.
Around me I see so many quick judgments and ostracizing labels based on one or a handful or maybe even many handfuls of choices people have made or things they have done, without taking the time to consider that each person is so much more, so much more layered than what could be listed in a few bullet points of offenses (or a few really nice things someone has done, too).
Which isn't to justify hurtful or harmful behavior, but simply to say, we all may (and very likely have and will again) sometimes have hurtful and harmful behavior, and so maybe none of us are really the ones who should be deciding who is and isn't on the "right" side of something or who is "good" or "bad."
I do think our choices are very important and very powerful (like, so important, and so powerful! That's sort of the whole point of the sustainable fashion movement), but I don't think any one of us should be judged – or judge – based only on some of them. Each choice, each action, is just a small part of who we are as a whole.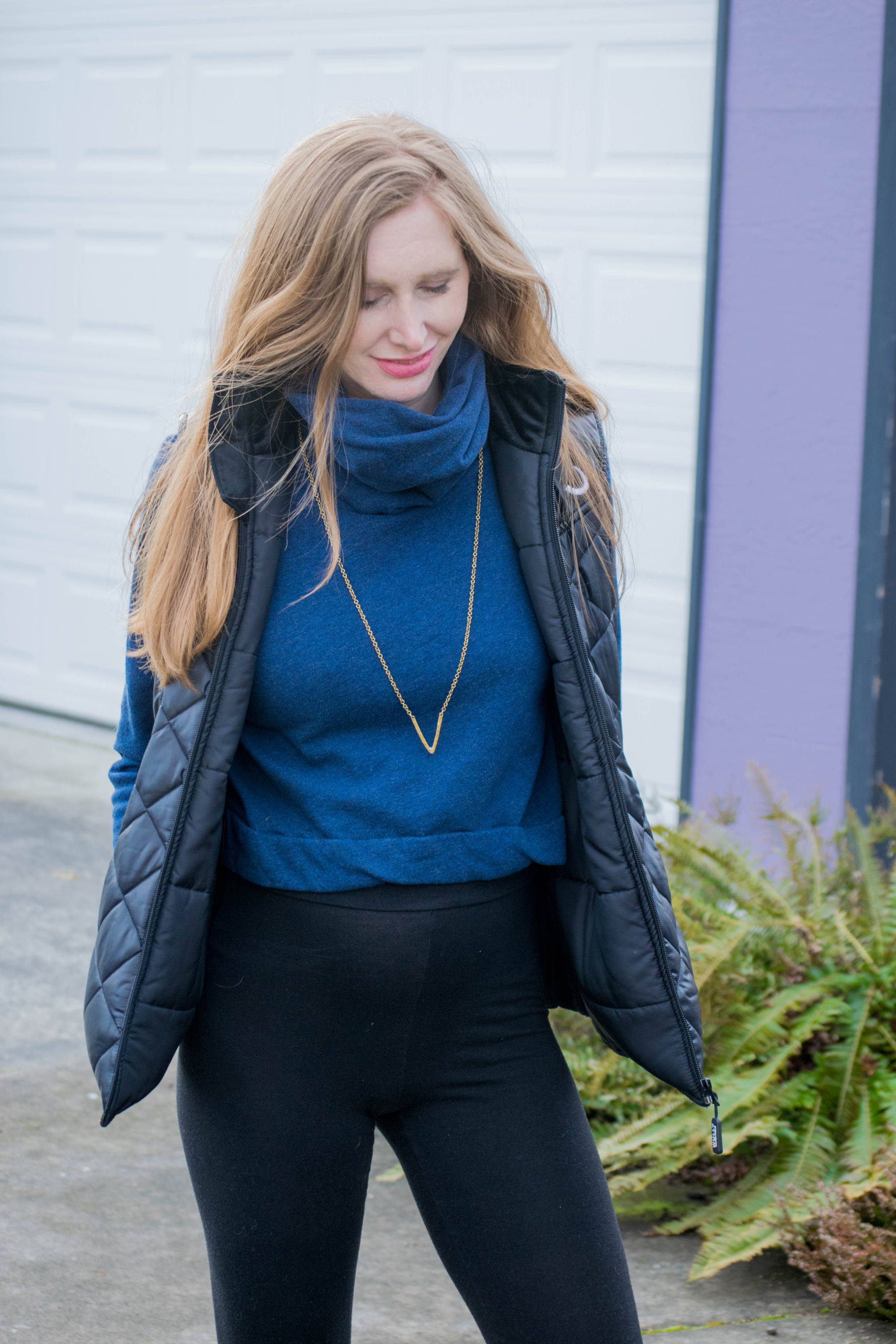 LAYERS FOR PRACTICALITY
Layers also help us in many practical ways - keeping us safe, keeping us protected, keeping us warm.
Turtleneck: Synergy
Vest: Wuxly
Necklace: Fair Anita
Leggings: Devinto
all fair trade + vegan of course!
People are complex and layered – and perhaps we're actually more interesting that way. Fashion certainly is. And I really think if we want to start removing layers and getting down to just the basics, it would be most beneficial if we all started with our own.
LAYERS FOR STYLE
Layers are also one of the easiest ways to add style to any look. There's a "Rule of 3" in fashion which says that you should wear at least 3 pieces (excluding shoes, jewelry, and bags) to instantly make something look more pulled together.
Sweater: Synergy
Blazer: PERI
Pants: Bead & Reel
Boots: Bhava

all fair trade + vegan of course!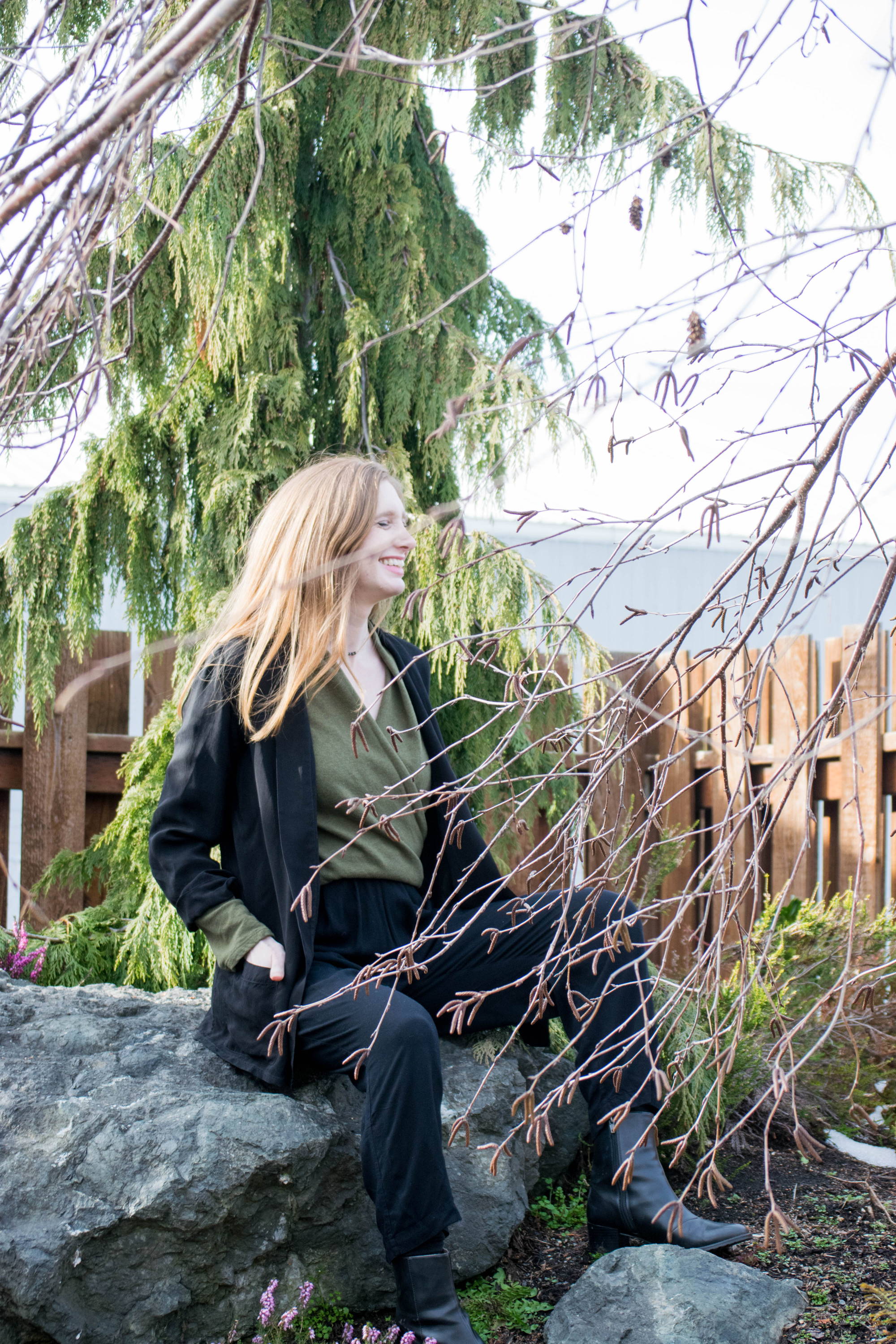 ---
Photos by Lisa Gilbert
A note on ethics in writing: 
I may sometimes (but not always) use affiliate links in my blog when talking about products or services that I truly suggest, which means that I may get a small commission if you end up buying or trying something through a link I share. This is one of the ways that I continue to fund the stories and programs that Bead & Reel creates and supports.
Many of the pieces featured in this story were kindly gifted to me.
A note on comments:
I love connecting with you through your comments below, however I am unable to respond through the current system. Please know your comment is read and acknowledged, even if you don't hear back.
If you find yourself feeling judgmental, unhappy with, or offended by my photos or writing I invite you to use this as an opportunity to channel your time and energy into creating something in your own life and space instead of inserting your opinions into mine. It is so much more impactful to put your focus into supporting something you agree with versus criticizing something you don't.
Comments which detract from the wellbeing of the Bead & Reel community and its members will be deleted.