The Mindful Guide To Surviving A Break Up Even Though It Totally Sucks
by Sica Schmitz | Posted on March 09 2018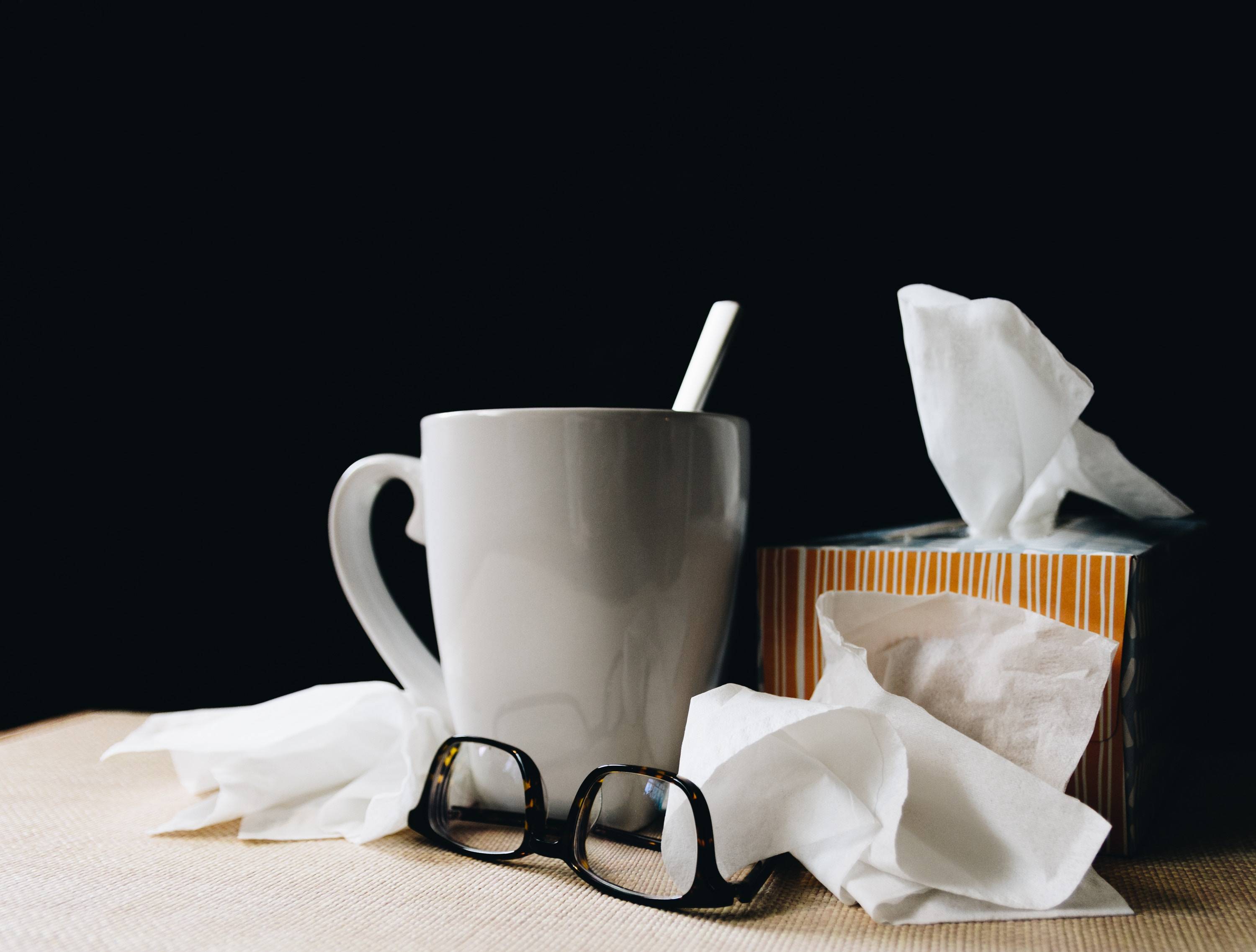 "You think your pain and your heartbreak are unprecedented in the history of the world, but then you read."
- James Baldwin
Break ups are really hard. I know this because I'm going through one right now.
Before the speculation starts going too much, I just want to say that the break up was amicable, with two people who loved each other but were in very different places (literally and otherwise). But even so, it's still difficult letting go of the person who has been my partner and best friend for the past 5 years, and the grief has been deeply felt.
During my last major break up I quickly started dating a much younger very cute guy, and then another one, and then spent about 6 months ignoring my feelings with mojitos and the dance floors of all the west coast gay clubs. Plus a few east coast ones, too. Sure, it was all very distracting and helped keep me busy and numb for a while, but I eventually realized that you can't outrun your feelings, and now that I'm a bit older and the very tiniest bit wiser, I'm skipping the mojitos and the rebounds (maybe not the gay clubs) and trying a new approach to the break up expereince.
Whether you're going through a break up right now or still recovering from an older heartache, it's never too soon or too late to start healing your wounds, so this week I'm sharing some of the things that are helping me most in navigating the sorrows of heartache.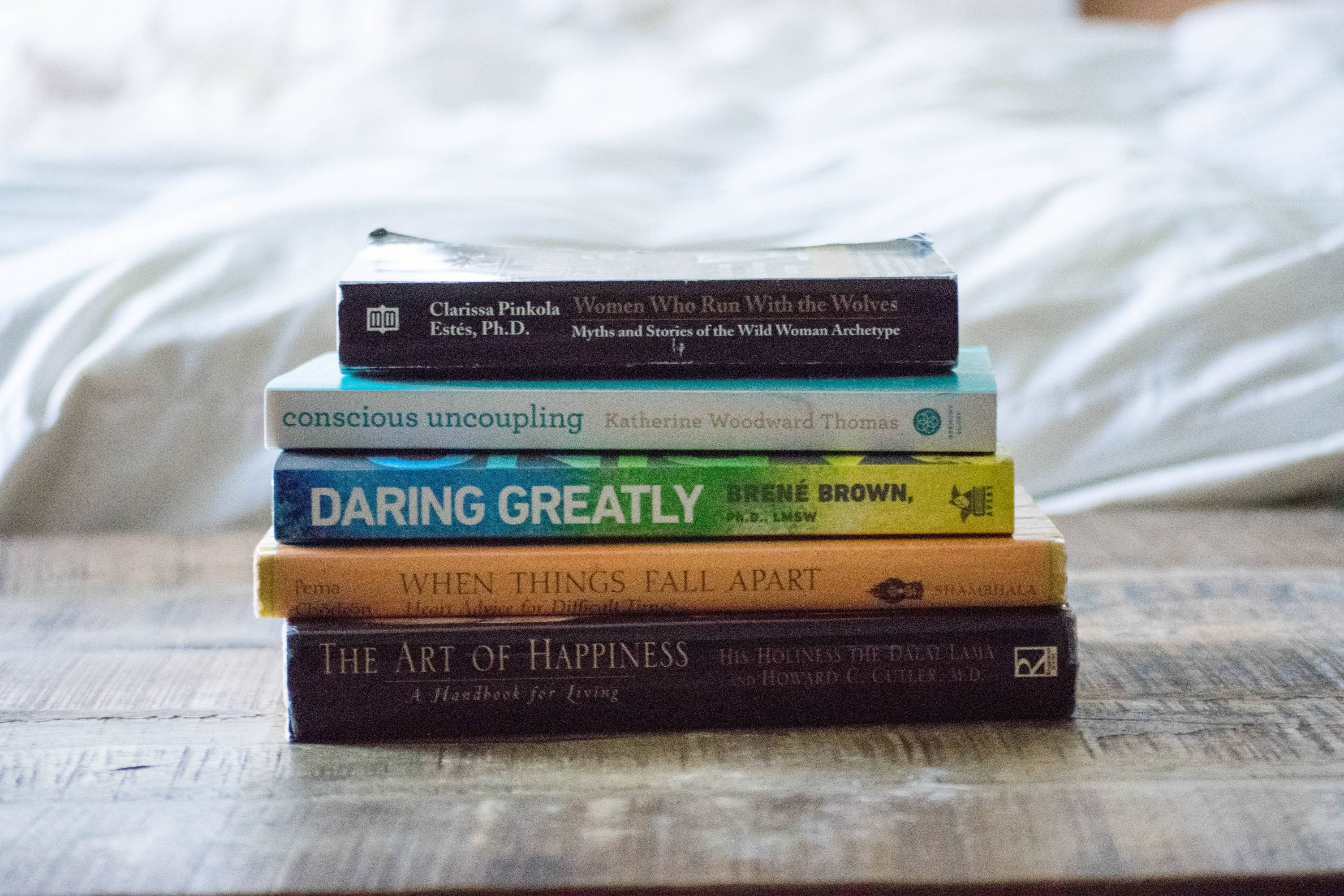 FOR YOUR READING LIST
First things first, I truly recommend reading Conscious Uncoupling by Katherine Woodward Thomas. It was recommended to me by a friend who was going through a break up, and I would like to now recommend it to you, my friend.
It's a very gentle and compassionate approach to breaking up, with lots of exercises for personal reflection and lots of encouragement to bring your best self forward into this new phase of your relationship (the "over" phrase). It's full of ideas on how to do your own healing in a positive, thoughtful way and shows that while breaking up may be painful, but it doesn't have to be mean or divisive.
Plus, reading will keep your mind busy and prevent you from stalking your ex on social media!
Other books I recommend:
"This is a good sign, having a broken heart. It means we have tried for something."
- Elizabeth Gilbert
FOR YOUR OTHER LISTS
Maybe you were ready for this break up, and maybe you weren't. Relationship expert Alison Armstrong says that if a relationship isn't working for one person, it isn't working for both people. So even if you didn't want to break up, or even if you're hoping to get back together, it's time for your relationship to end and clear a path for whatever is ahead.
I suggest making two lists: one to help you let go of the past, and one to help you create your future.
This first list is from the Conscious Uncoupling book, and for this exercise you write down:
20 things you are happy to be losing in this break up (e.g. the dirty dishes you would find under his side of the bed)
20 things you are gaining out of this break up (e.g. getting to take up the whole bed!)
20 things you are committed to learning out of this experience (e.g. how to better communicate your feelings about things on top of and underneath the bed)
Save this list and look at it any time your nostalgia gets the best of your or you start to forget all the reasons why the relationship needed to end. So, basically, you may need to keep it fairly handy, like taped onto your bathroom mirror or folded into your handbag. Or tattooed on your forearm.
The second list is for you to write down what you want in your next relationship, phrased in the present tense ("He/she/they are….).
Quick note: I think our culture puts way too much emphasis on romantic relationships and discounts the incredible importance of relationships with friends and family and animals, so, it's okay if you don't want another romantic relationship right now/ever. But we are social, loving creatures, and you should have a healthy relationship with someone who loves you the way you need to be loved regardless of what kind of relationship that is, so now is the perfect time to start thinking about what could look like.
Start by reflecting on what you enjoyed about your last relationship and what you did not enjoy, and then write down your dream wish list. You can include absolutely anything that feels right to you, no matter how specific or how strange or how many pages it ends up being. Take a few days to reflect on this, and feel free to add more if you think of more. Once you feel that your list is complete, make a copy and store it somewhere safe, and burn or bury the original, releasing it back to the Universe.
Just a word of caution: the Universe has a funny way of giving us what we ask for but perhaps not always in the way we expected. So, be a little mindful of what you ask for and how you phrase things. Like, in my case, I looked over my list (loyal, smart, funny, vegan...) and realized there's either a totally wondeful man or a totally wonderful elephant in my future unless I add some clarifying language.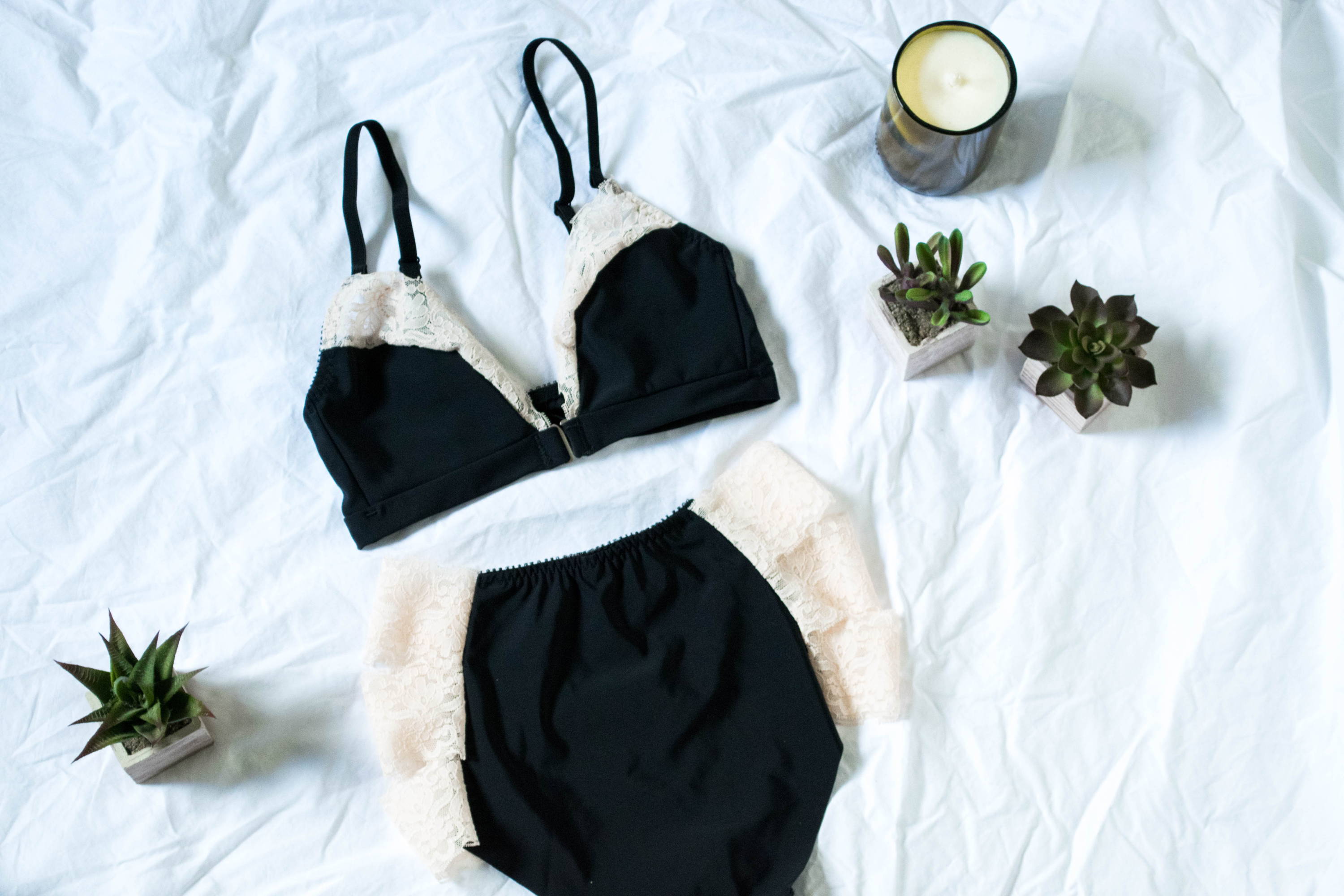 FOR YOUR CLOSET
When you're going through a breakup, absolutely everything can remind you of that person. Especially if you lived together where basically all your stuff is now a constant reminder of the life and home you used to have together which no longer exists. And while it's not always practical or affordable to replace everything you own (trust me, I thought about it), one of the things that I have found to be very soothing is to get new intimates. There's just something about new bras and panties that feels special, pretty, personal, and like the first step in a fresh start.
Sustainable Intimates Brands I Recommend: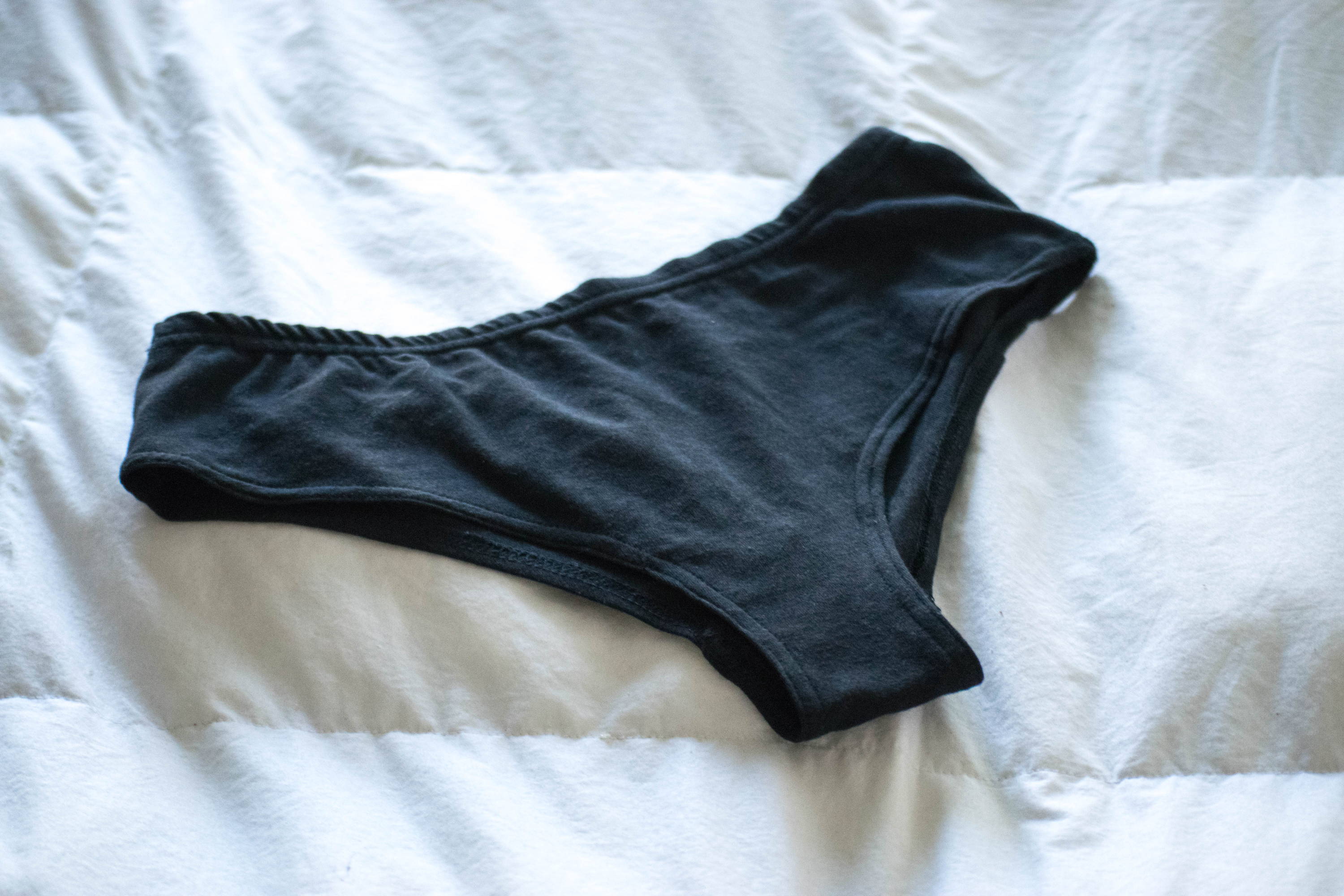 FOR YOUR BODY
It seems like every break up guide is like, "you should exercise! The endorphins help make you feel better!" Sure, that's true and fine. But I think you should exercise because it makes you feel strong. Like, after an hour of nonstop chaturanga dandasana in yoga, when it feels like my shoulders are possibly going to fall off, I realize that if my body can get through that, my heart can get through this.
Plus I really believe that we store emotions in our bodies and if we don't move around and give the heartbroken energy a release it can get stuck and manifest in all sorts of surprising and unpleasant ways later on. So, build your strength. And do your releasing. And then, if you happen to get super glowy and toned and casually share it it somewhere you'll be sure your ex will see it (like, maybe your sustainable fashion blog?) that's not terrible either.
FOR YOUR MIND
During times of intense emotions you probably don't feel super inspired to sit quietly and listen to your thoughts, so I understand the resistance to meditation but the thing is, it really does help. This is an especially fragile time and you may want to obsess over everything that was ever said or done or what went right and what went wrong and what they are doing now and how much you miss them (or is that just me?), and none of that is helpful or productive. Instead, meditation can help you learn to quiet your mind, become less reactive to your thoughts, and control where you put your mental energy so that you can focus on accepting what is happening now instead of clinging to the past or wishing for an imaginary future.
If you're new to meditation, check out my previous guide to meditation for tips on how to make meditation easier on your mind and body. The Conscious Uncoupling book has a few really lovely guided meditation, or if you need a little extra help, I made you a guided Break Up Meditation to help you relax and also not want to key your ex's car.
FOR YOUR HEART
One of the hardest things about breaking up is that often that person was your best friend who you talked to about everything and now you aren't supposed to contact them to talk about this really huge difficult thing going on in your life (I mean, it happens – but try not to make a habit of it... note to self). This is the time to lean on your real and imaginary friends instead.
REAL FRIENDS
Whether it's nurturing your current friendships, rekindling your neglected ones, or reconnecting with the long lost ones, you need to start training yourself to call or text someone(s) new when something great or terrible happens. When you're lonely or bored. When the baby orphan elephant you foster does the cutest thing ever (you guys, Ndotto did the cutest thing ever the other week!).
I've been so touched and surprised by how many of my friends have been regularly checking in on me or have been super available for lengthy calls and texts and totally important updates about my elephant. It's reminded me that as much as it can be wonderful to be part of a couple, it's also can be lovely to have an entire community of support, too.
IMAGINARY FRIENDS
No matter how great you friends are, there's just really no substitute for Carrie, Samantha, Charlotte, and Miranda. So grab your favorite vegan ice cream (Ben & Jerry's Caramel Almond Brittle is my personal favorite), throw on your least glamorous sweatpants (you can shamelessly do that now that you're single), and get cozy with the movies and shows that were made for these moments.
My favorite breakup TV shows:
Gilmore Girls (streaming on Netflix): for charm and nostalgia
Jane The Virgin (streaming on Netflix): when you need something heartwarming and sweet with cheerful production design
Sex and the City (streaming on HBO - and I also own the DVDs): this has all the fashion and break up advice you could possibly need
Lovesick (streaming on Netflix): love is hard. and funny. and wonderful. and this darling show captures it all, with British accents
This Is Us (streaming on Hulu): I basically just cry through every episode and it's wonderfully cathartic
My favorite breakup movies:
500 Days of Summer
Celeste and Jesse Forever
An Affair To Remember
Legally Blonde
The Last Five Years
Sliding Doors
Like Crazy
Under The Tuscan Sun
How To Be Single
When Harry Met Sally
La La Land
Save
FOR YOUR ENERGY
They say the fastest way to get over one person is to get under another, but, I don't know anyone this has actually worked for on any deep level. It may be a quick bandaid or distraction, but in your most hurt and vulnerable times it's easy to do things you'll regret or misplace your feelings, and in the end, you're going to have to deal with this loss eventually, so why not now?
I recently learned about bramacharya, a much debated topic in the tradition of yoga which in its strictest form basically means celibacy. While I absolutely do not think there is any shame in moving on and think women especially have had enough repression of their sexuality, I'd like to encourage you to think about your reasons for a rebound and make sure that if you have one, you do it from a place of power and not to prove a point to your ex or anyone else. Bramacharya encourages you to take your sexual energy and channel it into your relationship with God (Universe/Higher Power/Consciousness/Spirit). Or yourself! This is not a dry spell - this is a conscious choice to invest in yourself and your spirituality instead of another person, and I honestly don't think we have enough of those opportunities in our adult lives. It allows us to focus on our own deep heart and soul work instead of spilling our messy emotions onto others.
And then when you're truly ready to move on, it will be from a strong, healed, empowered place, not from a place of competition or desperation or trying to fill a void.
I plan to do this until I feel like I have fully learned the lessons from my past relationship, and/or if I meet Leonardo DiCaprio.
FOR YOUR SOUL
Heartbreak has given us some of the most aamzing art, music, writing, and activism. I mean, if it weren't for broken hearts, some of the best of Frida Kahlo's art, Anaïs Nin's words, and Adele's music would have never been created. Of course, if it weren't for a broken heart, you wouldn't need Adele's music, but, you get the point.  
Whatever your favorite ceative outlet, now is the time to nurture it. I've recently started playing the piano again and it's been so cathartic to clunk out my feelings to the music of Beethoven and Leonard Cohen and generations of broke hearts before me (if you're interested, I've been sharing some of them on my Instagram). Allowing your hurt to alchemize into something beautiful can help bring healing to you, and maybe even others, too.
FOR YOUR DAILY REMINDER
The only thing that really helps with loss is time. I know, I hate this one too. But you can't rush the tender and complicated matters of the heart. And even when it seems like the hurt will never end, the one guarantee we have in life is that nothing is forever. Not even broken hearts. Or sadness. Or anger. Or the delusional hope that a person will change. I promise, all of these will eventually fade.
So be patient with yourself, and kind to yourself, and know that one day, this too shall pass. And maybe when it does you'll have a creative project and stronger friendships and a deeper relationship with God and a new elephant love to show from it!
AND A FINAL NOTE
It's totally normal to go through a wide range of difficult emotions from sorrow to denial to anger to shame. However, if your breakup is causing severe emotional distress, seems to last for an extraordinarily long time, or is resulting in drug or alcohol abuse, please consider consulting a therapist. You don't have to go through this alone.
Featured Brands:
---

A note on ethics in writing: 
Many of the items in this piece were kindly gifted to me - and you will continue to see them in future stories. I may sometimes (but not always) use affiliate links in my blog when talking about products or services that I truly suggest, which means that I may get a small commission if you end up buying or trying something through a link I share. This is one of the ways that I continue to fund the stories and programs that Bead & Reel creates and supports.
Lastly, I love getting your thoughts and feedback in the comments below, but unfortunately this system won't let me reply back. If you have a question, feel free to write me directly at hello@beadandreel.com