Vegan Leather + Lace: How To Break The Fashion Rules
Posted on February 13 2018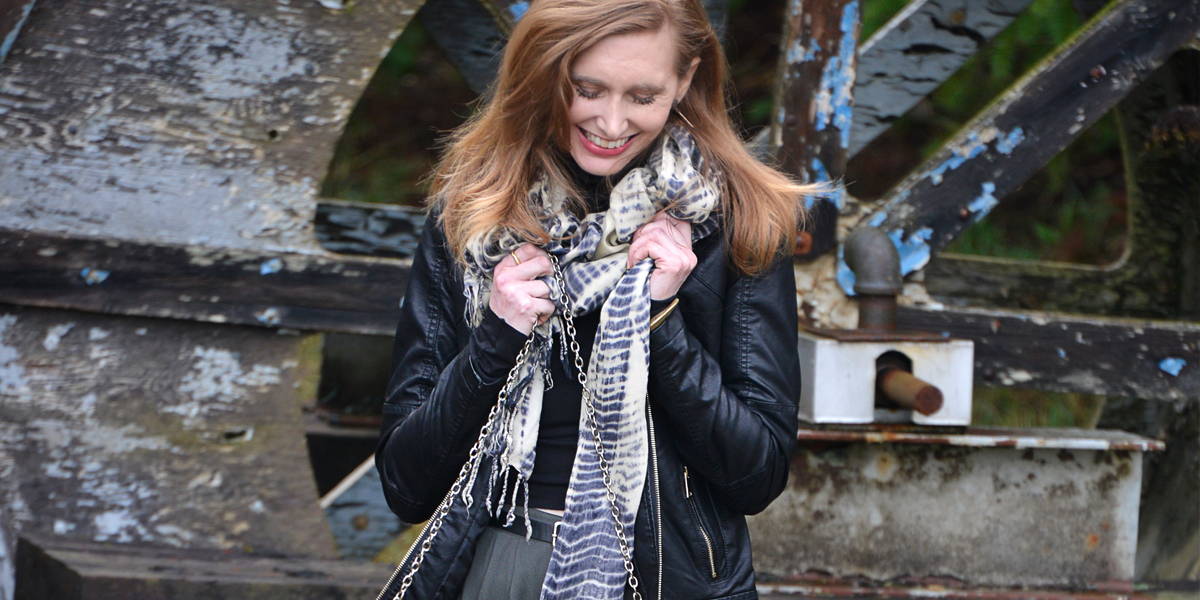 Having worked as a stylist for the past 14 years, there are two (almost) universal truths I have learned about women and fashion:
Almost all women are insecure about their bodies, regardless of their age, size, or outward confidence
Almost all women take fashion way too seriously
Both are things I work to address with my personal styling clients, and I've written about the first one before (and likely will write about it more in the future), so today I want to talk about this second truth: the obsession with fashion limitations.
There seems to be a belief that you can only wear a certain size, or specific tones based on your skin color, or dress a certain way for your age, or need to follow those rules about stripes or prints or when to wear white, or need to adhere to a garment's intended purpose, or keep it the same way you bought it.... and omg approaching fashion this way is exhausting, right?
In all these "shoulds" and "shouldn'ts" and boundaries, we lose a sense of individual style, a great deal of fun, and the ability to build personal relationships with our closets. But it doesn't have to be this way! I have partnered with several of my favorite sustainable brands to show some of my favorite ways to to break the fashion rules.
Everything featured in this inagural Bead & Reel photo story starring yours truely is vegan, sweatshop-free, from female founded companies (except for one), has a strong emphasis on sustainability, and is something that is personally in my closet, breaking the rules with me every day.
"If you obey all the rules, you miss all the fun"
- Katharine Hepburn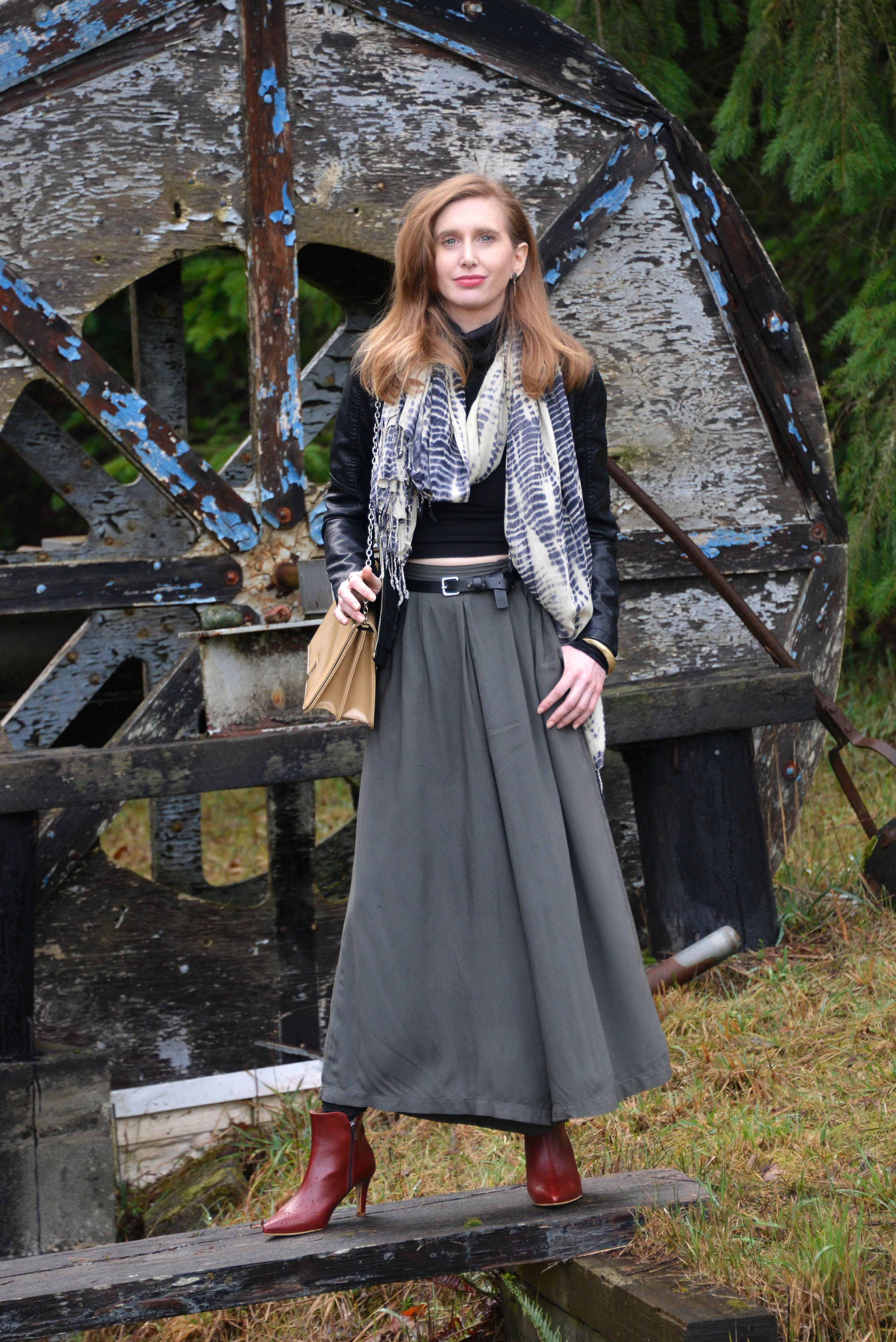 "YOU CAN'T WEAR THAT IN WINTER"
I regularlly see product reviews or hear from clients who say things like, "This is great for summer but I can't use it in the winter."
And I think to myself, "You're letting a fabric weight dictate when you wear something? Oh (bee-free) honey, no!"
I understand the fear: I'm always cold too, which is why I'm excited to introduce you to layering.
HOW I MADE THIS LOOK MY OWN
These are some of my absolute favorite pants, but they are fairly lightweight and very breezy. So, I simply added some footless tights underneath and now they are perfect for chilly weather.
IMany women think midriffs are something for teenagers and summers, but sometimes I can feel a bit oppressed during the winter if I'm always covered head to toe, so I chose a cropped turtleneck that keeps me warm and chic, but also let's me show a little bit of my 30-something belly.
GET THE LOOK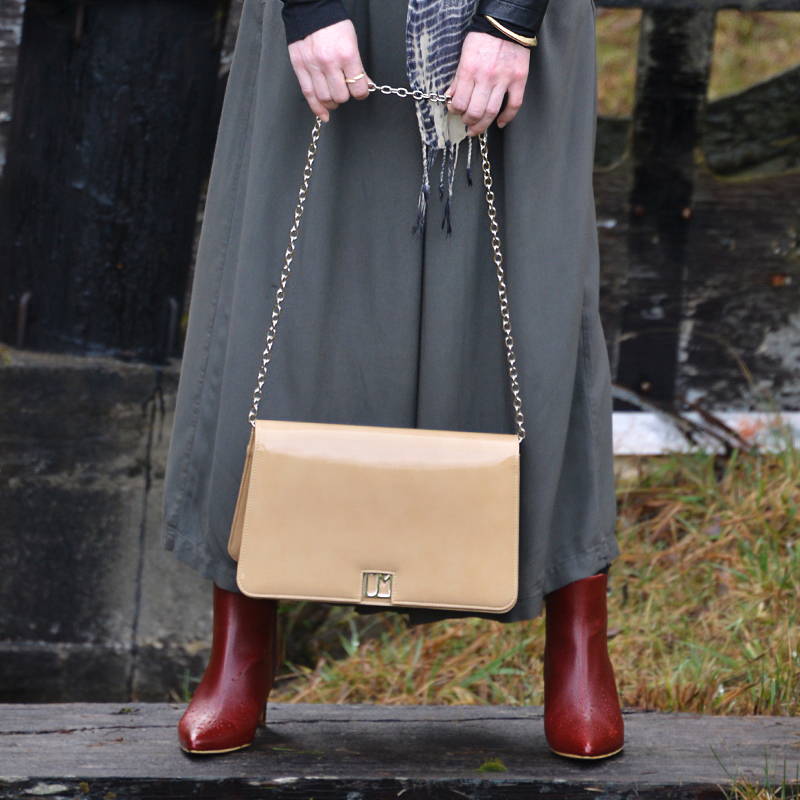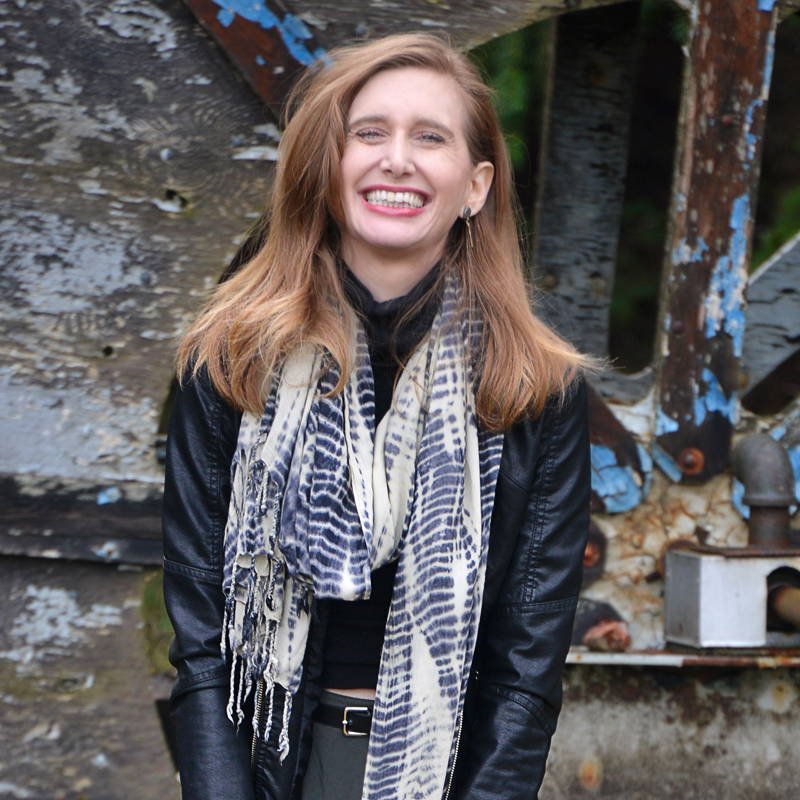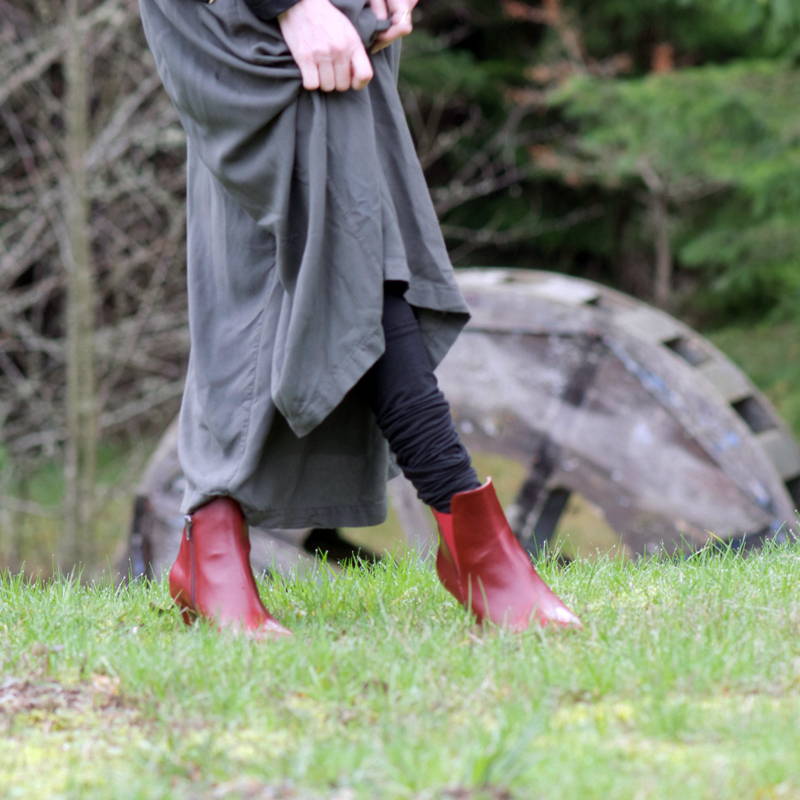 ---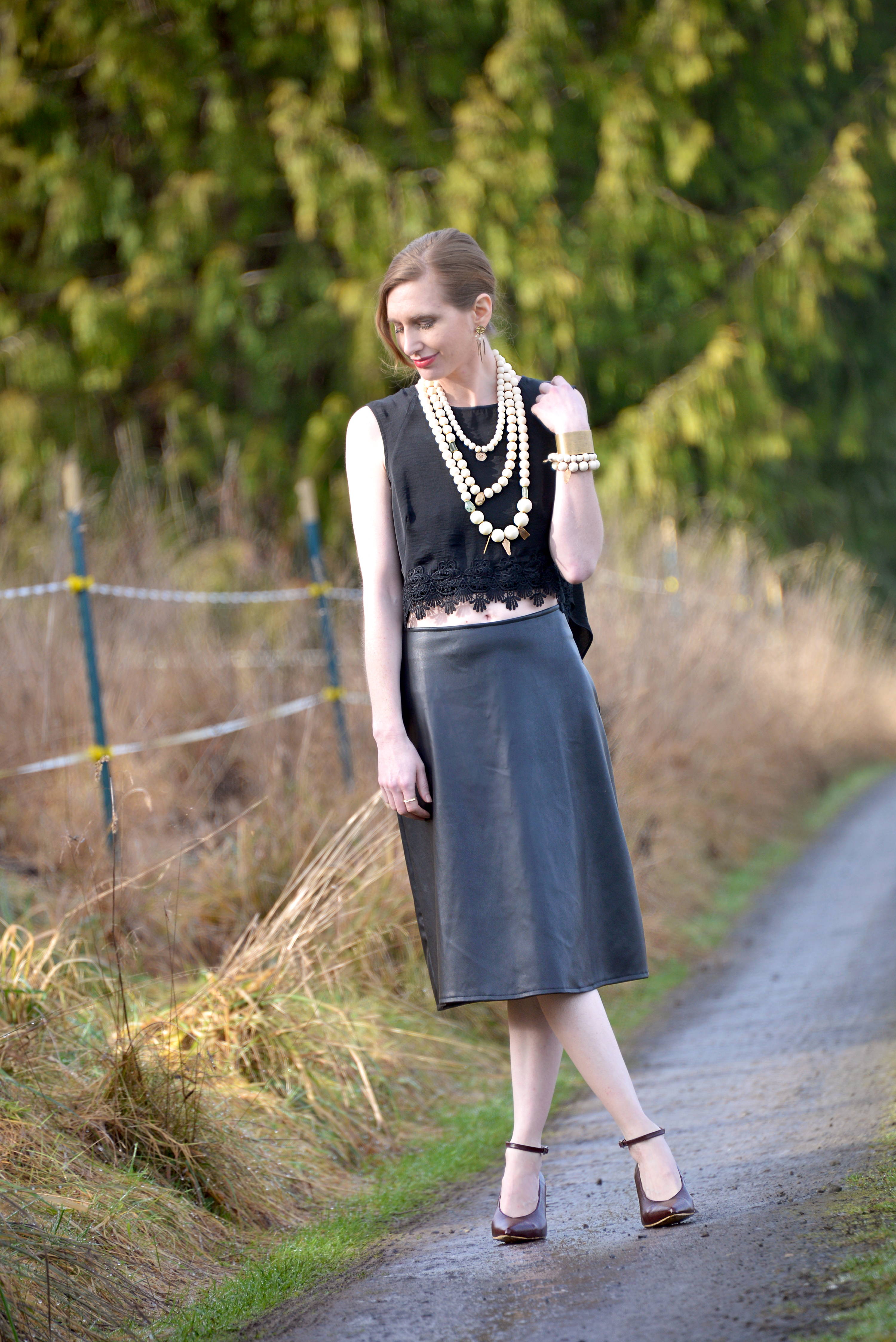 "I DON'T WANT TO SHOW MY ___"
A lot of times I hear my customers and clients scared to try something because they don't like showing their (legs/arms/stomach/back/legs/pick a body part). And I definitely don't want anyone to feel pressured to expore more than they want to, ever.
But just because something is cropped or cut out or low rise doesn't mean you have to write it off. In fact, with some carefully chosen layers (this time for style, not necessary for warmth), you can turn almost any piece into something you feel absolutely comfortable in.
HOW I MADE THIS LOOK MY OWN
I love this top, however, the open back is a bit more skin than is appropriate for most occassions in my life. Fortunately there's an easy fix! A crop tank top underneath lets the blouse show off its beautiful design while leaving me feeling the right amount of covered.
IAnd you could take it even further. I am comfortable showing a little skin, but if you aren't, this look could easily be updated with tights, a long sleeve top, a sweater or jacket, or even a long tank top just to cover the midriff. In fact, you can find most of those pieces throughout this story for an ideal mix-and-match.
GET THE LOOK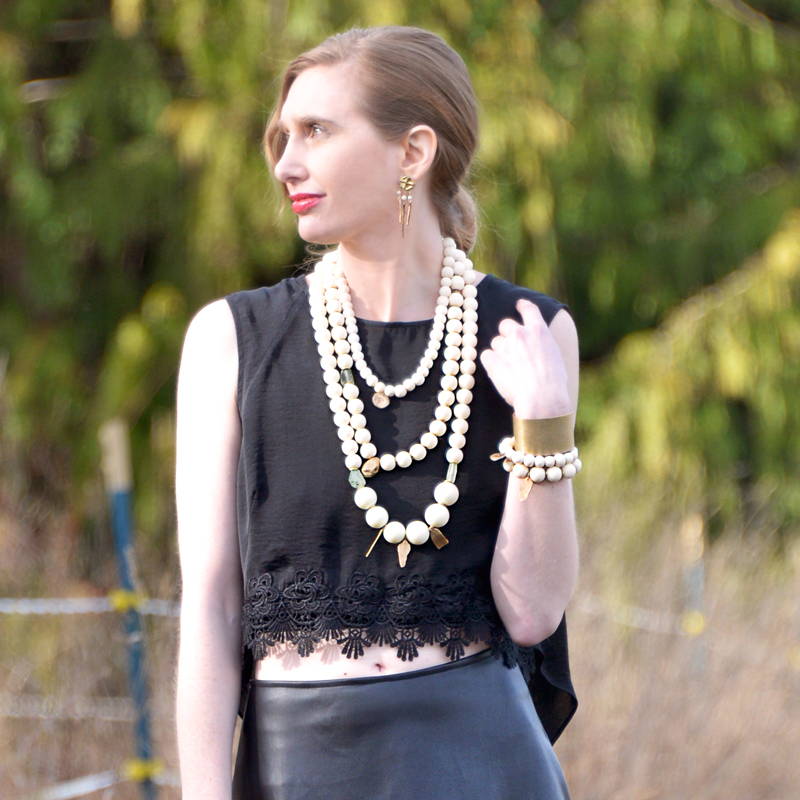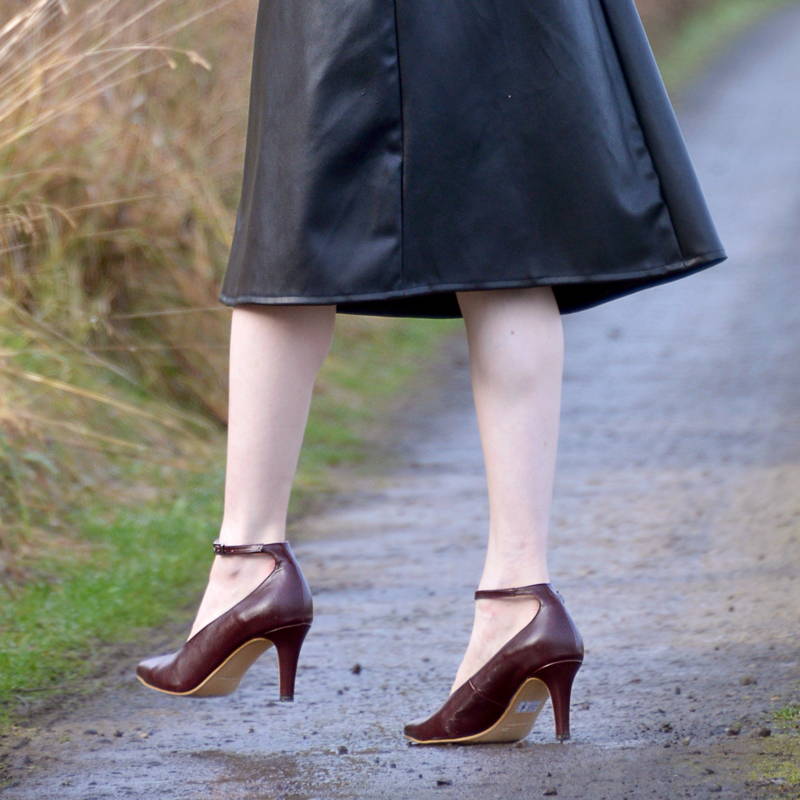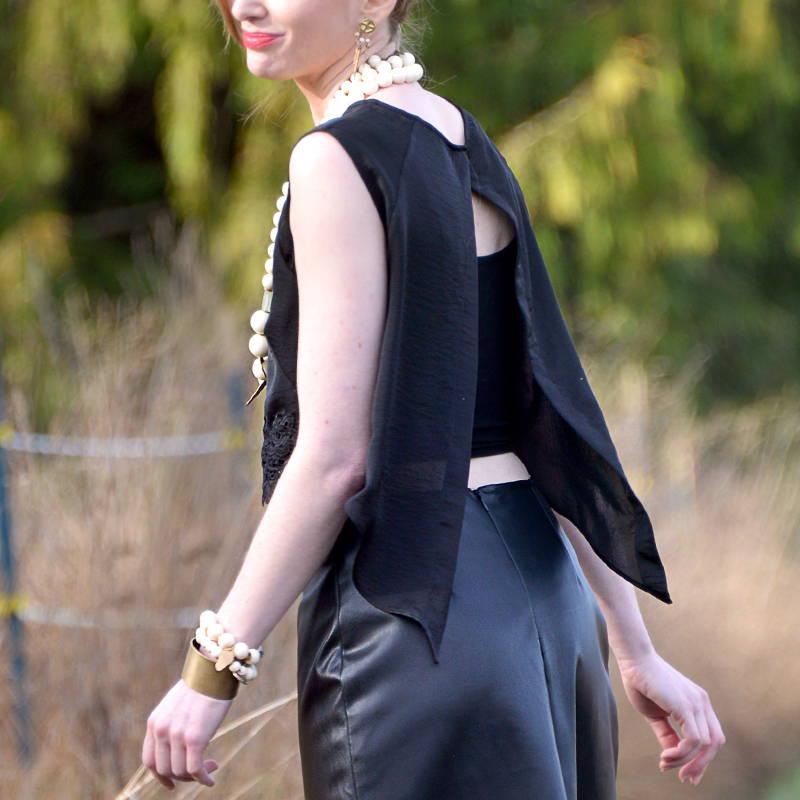 ---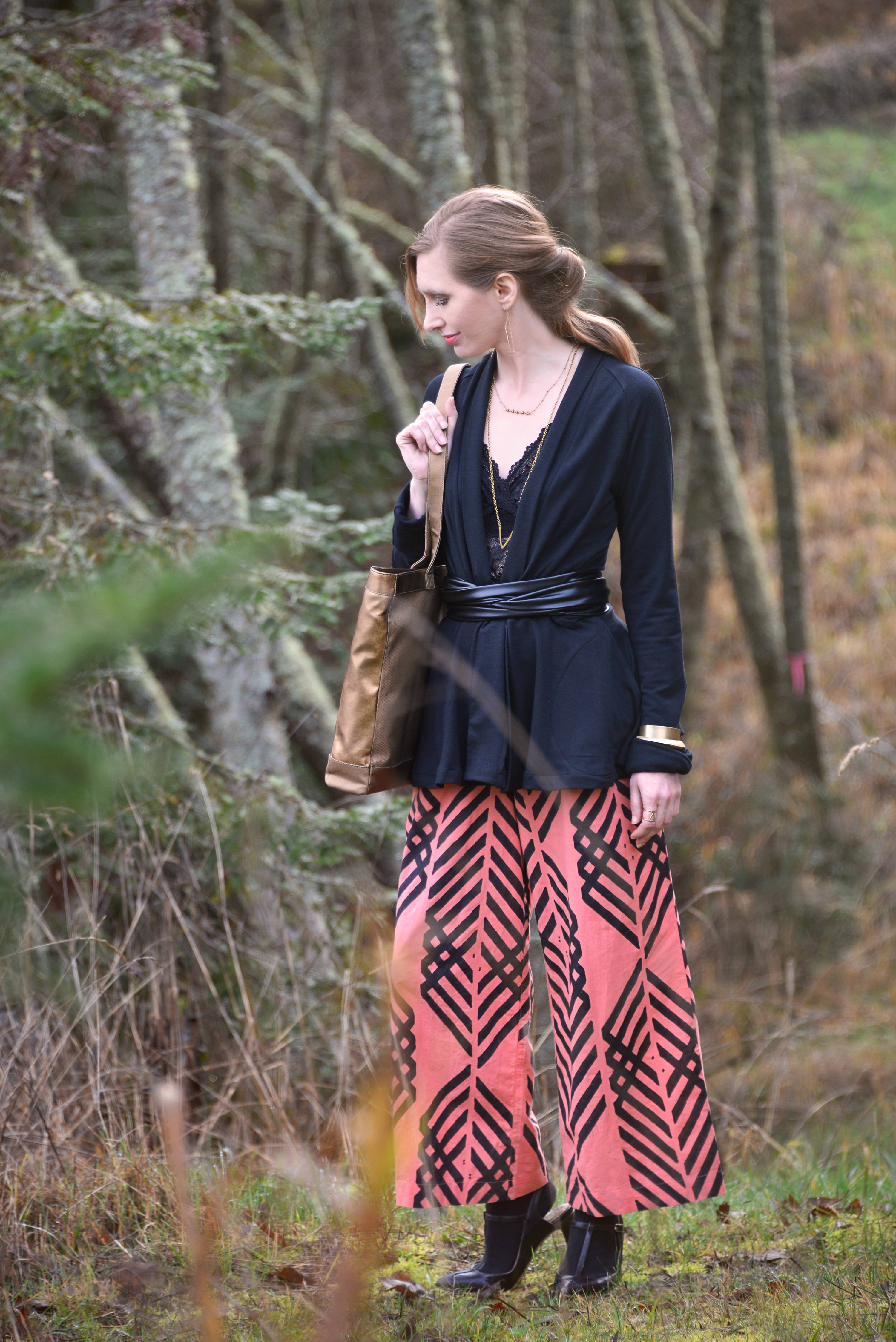 "BUT IT'S _____"
Despite my frequent encouragement, I still get a lot of resistance about breaking rules ("oh I couldn't possibly wear the the wrong size, wrong color, wrong department, etc."), But in bending or breaking the rules, this is where you really get the chance to create something uniquely yours and start creating actual style.
You can experiment, hem, alter, layer, add, subtract, and start playing with ways to use the things you think you shouldn't - or can't in new, fresh, or unexpected ways. Life is serious enough, have fun with your fashion.
HOW I MADE THIS LOOK MY OWN
First, this is a nursing bralette. That title alone would scare away most non-nursing people. And while it works quite well for that (or so I would imagine), that's not the only way it can be used. Despite the title, it's really just a more carefully designed bralette that is quite comfortable. With this piece, beyond shopping outside my "category," I also made a style adjustment. This top comes with a rhinestone indicator detail (handy for nursing, or if you like rhinestones) but I'm not, and don't, so I just cut it off. It took 2 seconds, and made this top absolutely perfect for me.
The jacket has a fabric belt built in, but I wanted something a little different for this look so I added my own belt, just tucking in the cloth one (which I like to use on other days). Voilà, a fresh new look!
IJust like in the first look, I wore the footless tights under the pants, as well as socks, even though the shoes have cut outs. Yes, you can absolutely wear socks with open toed or cut out shoes!
And lastly: I don't wear pink. In fact, until recently I didn't wear anything but black (there's a story behind it that I may share later, and I've recently added in bold colors like white, grey, and some browns to spice things up). But I could use something a bit more cheerful right now, and these pants come with a legend that if the color rubs off on you, you'll be loved forever, so, I broke my own rule, and added some color into my closet (and maybe even some eternal love).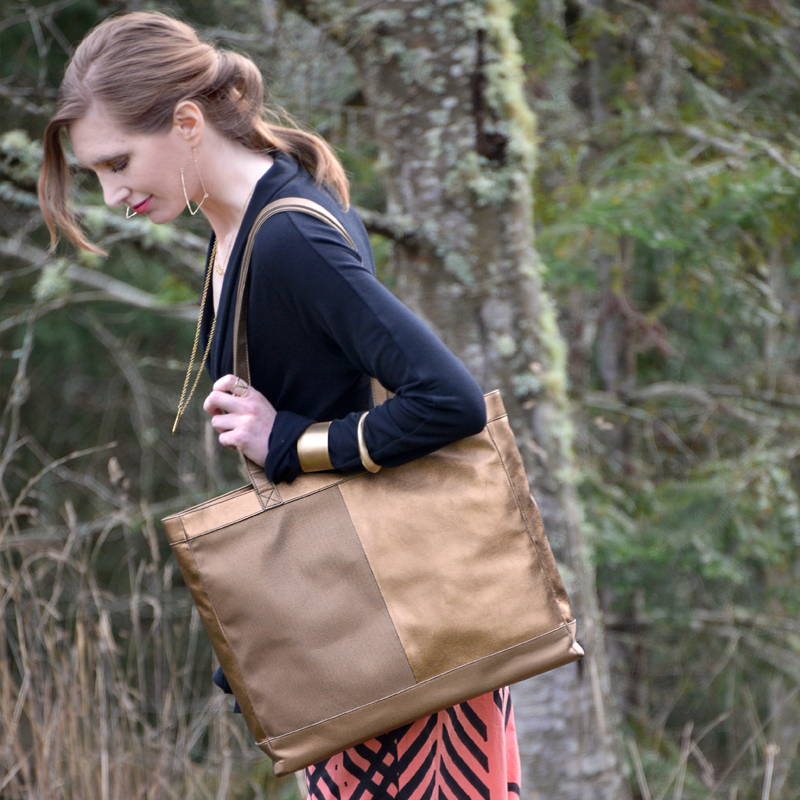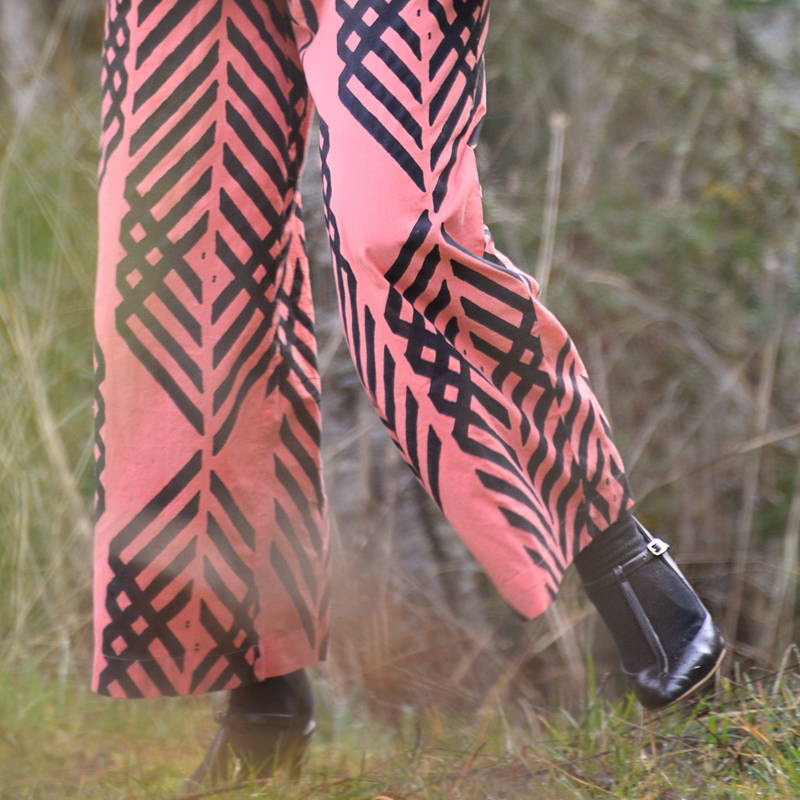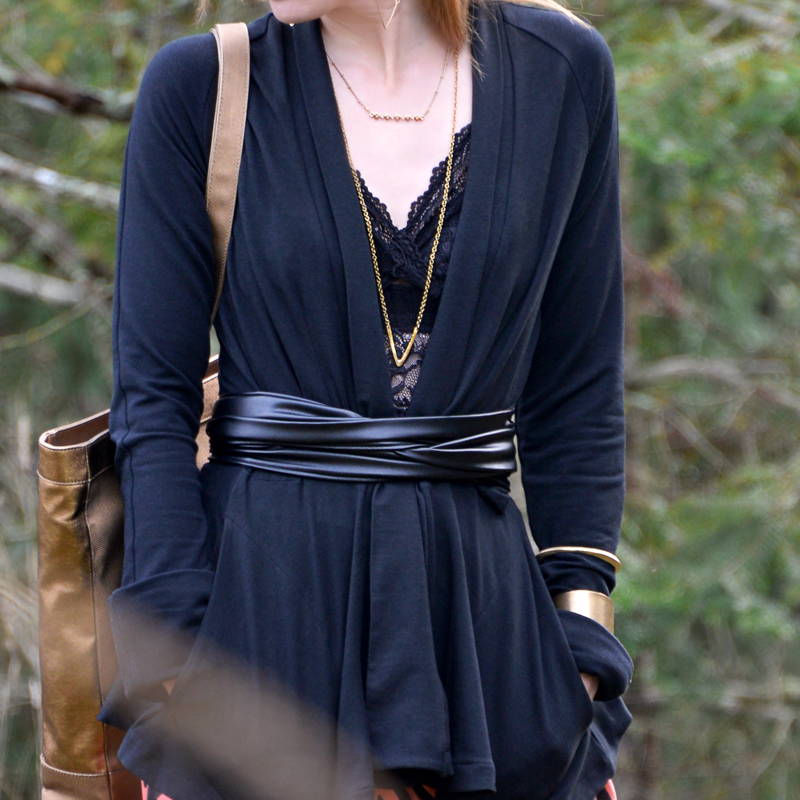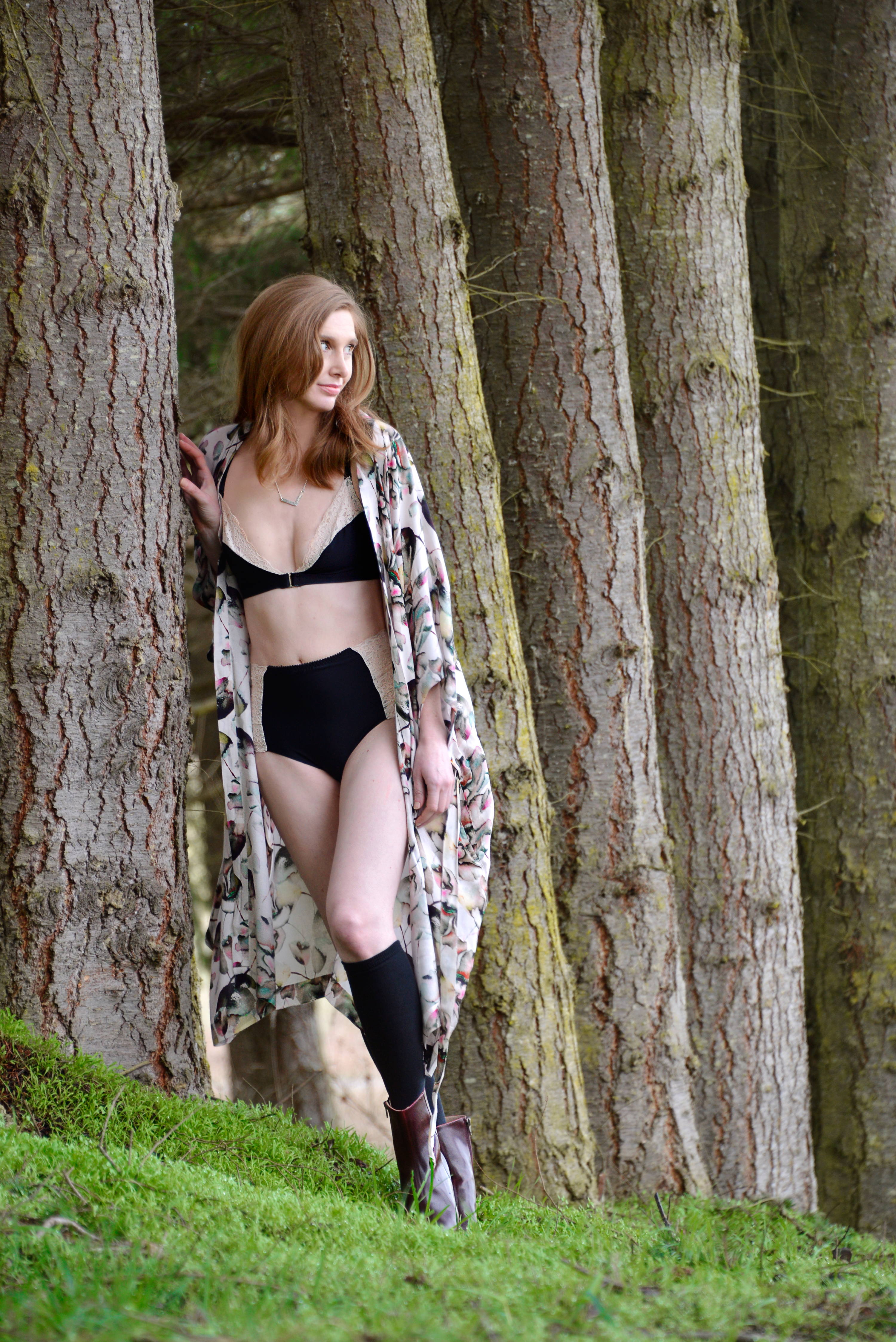 "WOMEN AREN'T SUPPOSED TO"
I was really nervous about this shoot. Not shooting it - I've worked very hard to love my body, and also frequent Korean spas where nudity is totally normal. But I was nervous about sharing it, since, I am a serious person who runs a serious business, and I was worried that I wouldn't be taken seriously as an entrepeneur modeling intimates.
Bu I'm so tired of women being judeged for how they do and don't share their bodies. And even serious women wear bras and panties and even want pretty ones. So, I'm breaking one more rule, and wearing whatever I want.
HOW I MADE THIS LOOK MY OWN
Well first, it was cold outside, and so I put on socks and boots.
And then I got over the expectations of what an entrepeneur can be photographed in, and I posted this series.
GET THE LOOK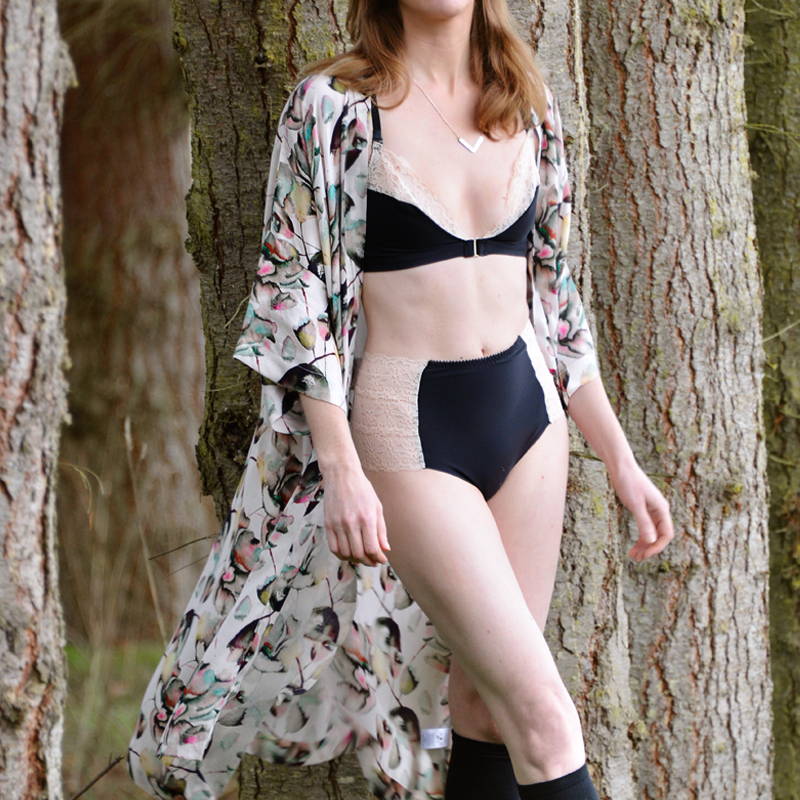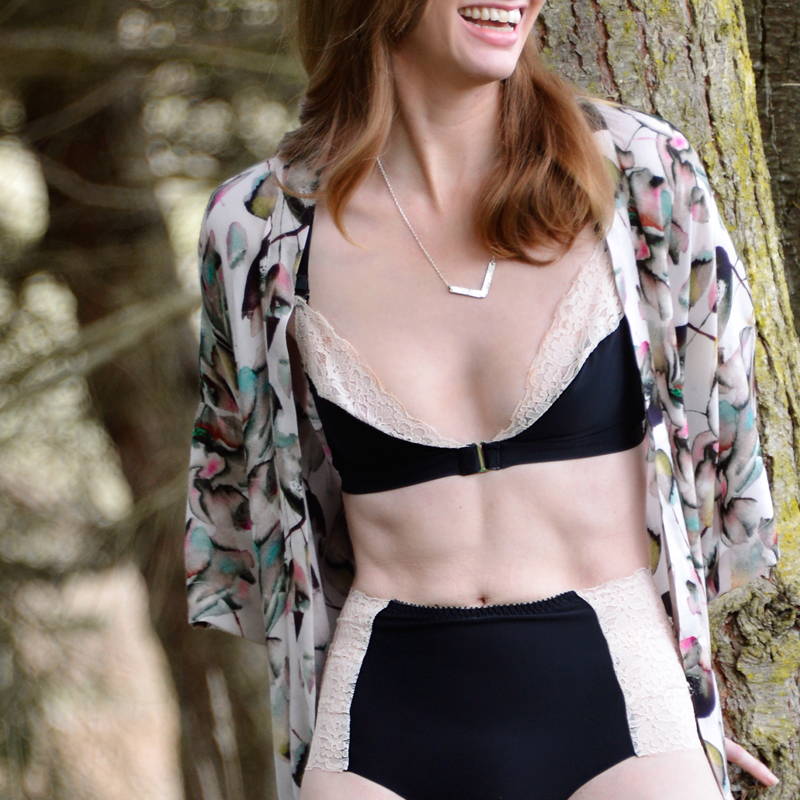 A note on ethics in writing: I would never promote anything that I hadn't personally used and didn't both believe in and enjoy.
Many of the items in this piece were kindly gifted to me as part of this story - and you will continue to see them in future stories. I may sometimes use affiliate links in my blog when talking about products or services that I truly suggest, which means that I may get a small commission if you end up buying or trying something through a link I share. This is one of the ways that I continue to fund the stories and programs that Bead & Reel creates and supports.
Lastly, I love getting your thoughts and feedback in the comments below, but unfortunately this system won't let me reply back. If you have a question, feel free to write me directly at hello@beadandreel.com