Wear Your Values... On The Mat: Ethical Yoga Style
Posted on April 08 2018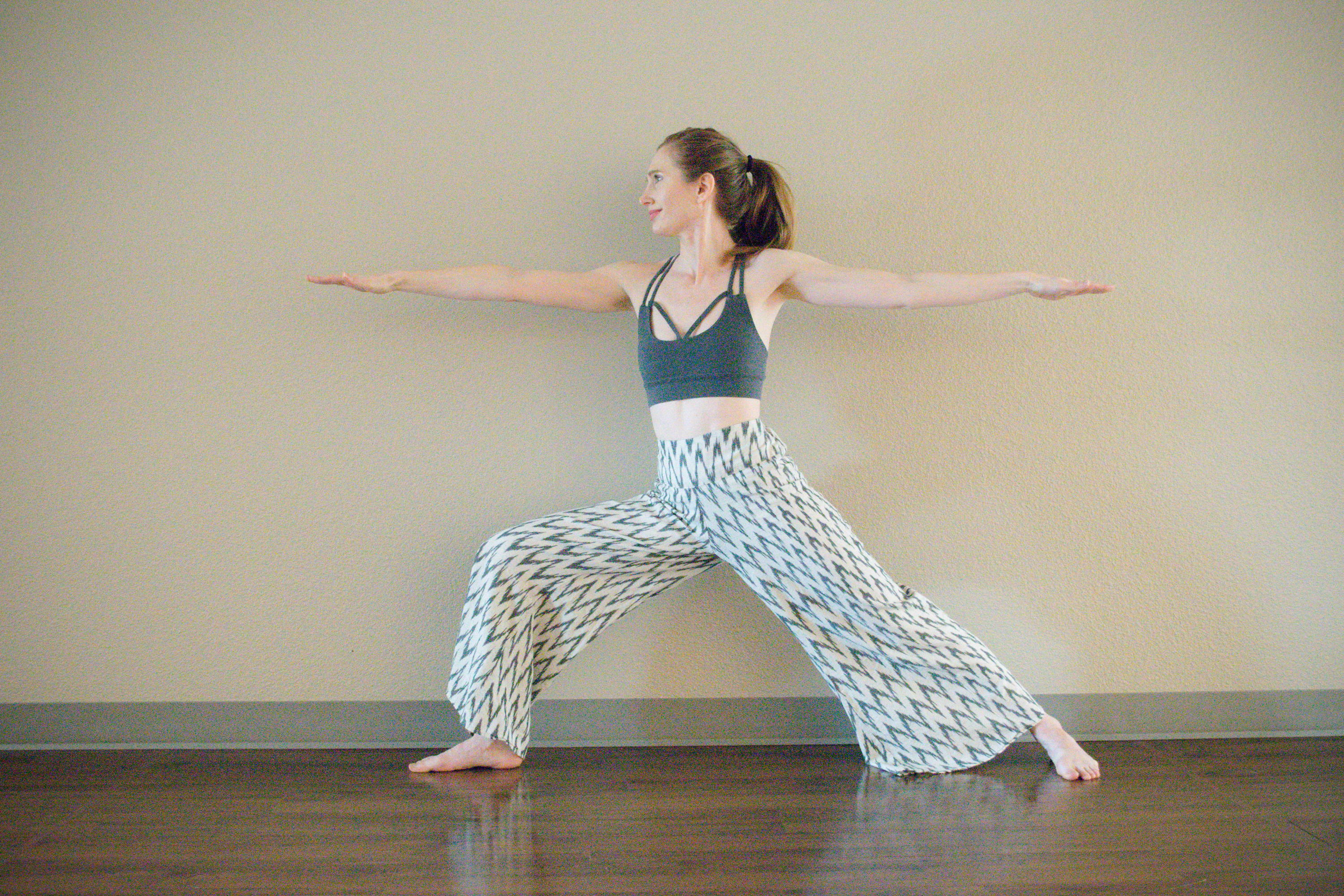 In the yoga studio bathroom I will often overhear a conversation that goes something like this:
"Oh I love your pants!"
"Thanks, I got them at (insert any number of human-rights-violating-corporate-giants here) for $7!"
And then my heart will kind of break.
"Clothes aren't going to change the world. The women who wear them will."
- Anne Klein
While many people do get into yoga just for the physical benefits of it, there is a large segment who are actively seeking the spiritual side as well, who are talking about the yamas and niyamas, about non-violence and peace and love and how we're all one…. at least until it comes to their wardrobe.
As yogis, we are not yet one with the garment workers who are being over-worked and extremely under-paid (especially women). We are not yet one with the dying rivers and oceans that over-production and under-regulation are causing. And we are not yet one with the people and animals whose diseases – and often deaths – are caused by pollution and toxins and disasters from working in or living around the fashion industry.
Yoga is a $16 billion industry – and fashion is a $3 trillion industry. So basically, what I'm saying is that both are industries that could afford to honor the first yama of ahimsa – non-violence. And so can we.
This week I'm sharing some of my favorite styles, brands, and affordable shopping tips to bring the true essence of yoga both onto and off the mat, and into the lives that our clothing choices touch – including our own.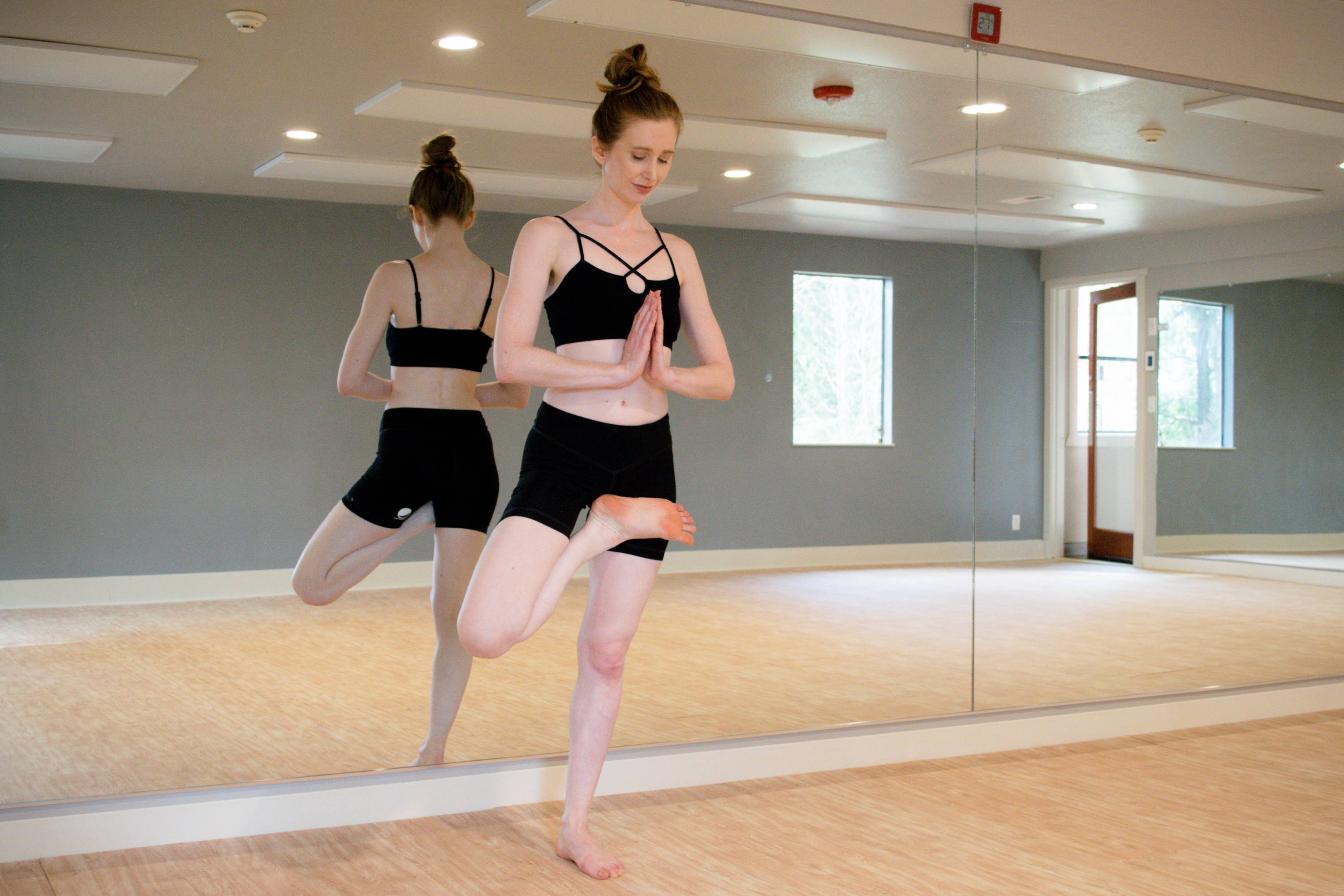 Bamboo Bralette: EcoVibe Apparel | Micro-Waste-Free Shorts: Miakoda
YAMA-WORTHY YOGA SHOPPING GUIDE
Look good, feel good, and do good with my selection of mindful designers and boutiques.
Miakoda: This is one of my favorite brands for yoga and loungewear. It's woman-owned, vegan-owned, Made in USA, and takes great care in fabric choices, like making leggings and shorts that are able to withstand hot yoga without creating microwaste pollution. Bonus: they offer sizes up to XXL.
EcoVibe Apparel: This wonderful woman-owned boutique is the place for affordable sustainable fashion, offering a variety of options ethically Made in China for moderate prices.
ROUND + SQUARE: I get more compliments on my ROUND + SQUARE tees than basically anything I own. Their graphic tees are not only are a powerful statement but they are also made in a GOTS certified family-owned factory in Turkey from 100% GOTS certified organically farmed cotton. All that, plus they donate 30% of their sales to Equality Now!
Azura Bay: A beautiful selection of mindful activewear (and much more), this woman-owned boutique is based in Canada and offers really unique, feminine pieces.
PERI: These Made in Los Angeles pieces put great care into sourcing local and sustainable fabrics and dyes and have a beautiful selection of après-yoga outwear and dresses to throw on before and after your Om.
Groceries Apparel: Stylish, comfortable Made in LA basics for both men and women. Their bras and leggings are staples of my wardrobe (both on and off the mat).
Teeki: Playful, Made in USA activewear that uses recycled synthetics to give you the durability and feel of traditional yogawear.
Stemp: Lounge-y hemp basics (and yoga bags!) made fair trade in Nepal. Use code BEADANDREEL for $5 off your order!
Synergy Clothing: A selection of leggings, tees, and more made from GOTS certified organic cotton in a GOTS certified factory in India.
Encircled: These are fabulous pieces for yin and restorative yoga classes (especially their leggings and sweatpants). I foresee these reversible legwarmers in my future.
My Sister: For feminist statement tees and hoodies that are... actually feminist. With an emphasis on education about and employment for survivors of sex trafficking, these styles donate 10% of their proceeds to anti-trafficking non-profits.
Bead & Reel: I mean, obviously ;)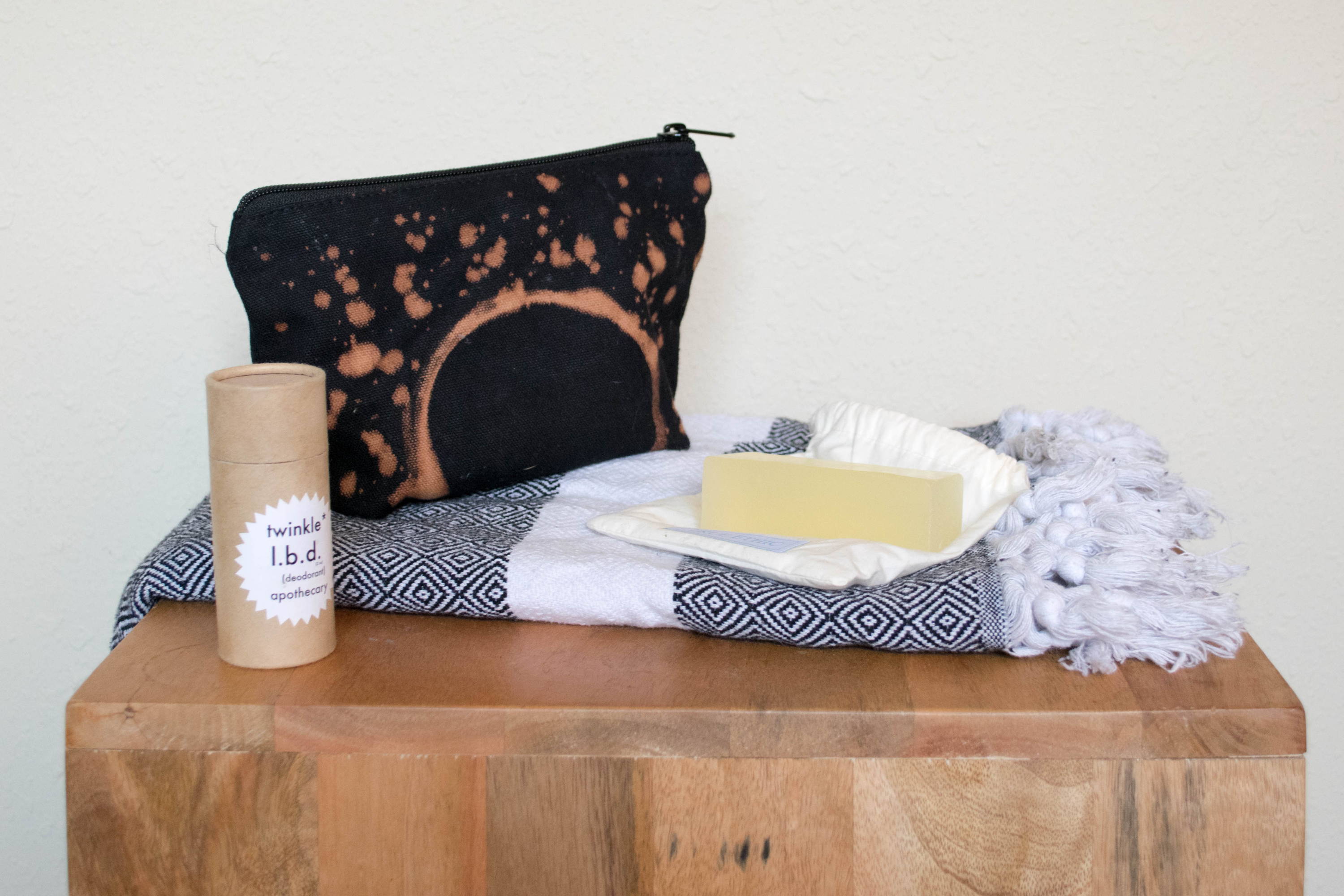 Handmade Deodorant: Twinkle Apothecary | Handmade Cosmetic Bag: True Ethic | Handmade Soap: True Ethic 
Fair Trade Towel: True Ethic
BEYOND THE MAT
Cleanliness is literally the first niyama, and just like our fashion, our bath and body products are a wonderful way to bring mindfulness to our practice.
Twinkle Apothecary: For all your woman-owned, vegan-owned, handmade, vegan, cruelty-free, Made in USA deodorants, creams, lotions, and scents.
True Ethic: Beyond body care (though I do love their soap bars, which not only cut down on waste, but also come with a very handy travel bag!), this woman-owned boutique has a fabulous selection of après-yoga essentials like fair trade towels, bags, candles, journals, and more.
Detox Market: If you're looking for a marketplace that offers high end and specialty clean beauty products, this is your one-stop-shop.
Orgotton: Carry your yoga glow with you all day with diffuser jewelry for aromatherapy (tip: it's not very polite to wear scents to yoga class, but it's a great way to maintain your energy afterwards!).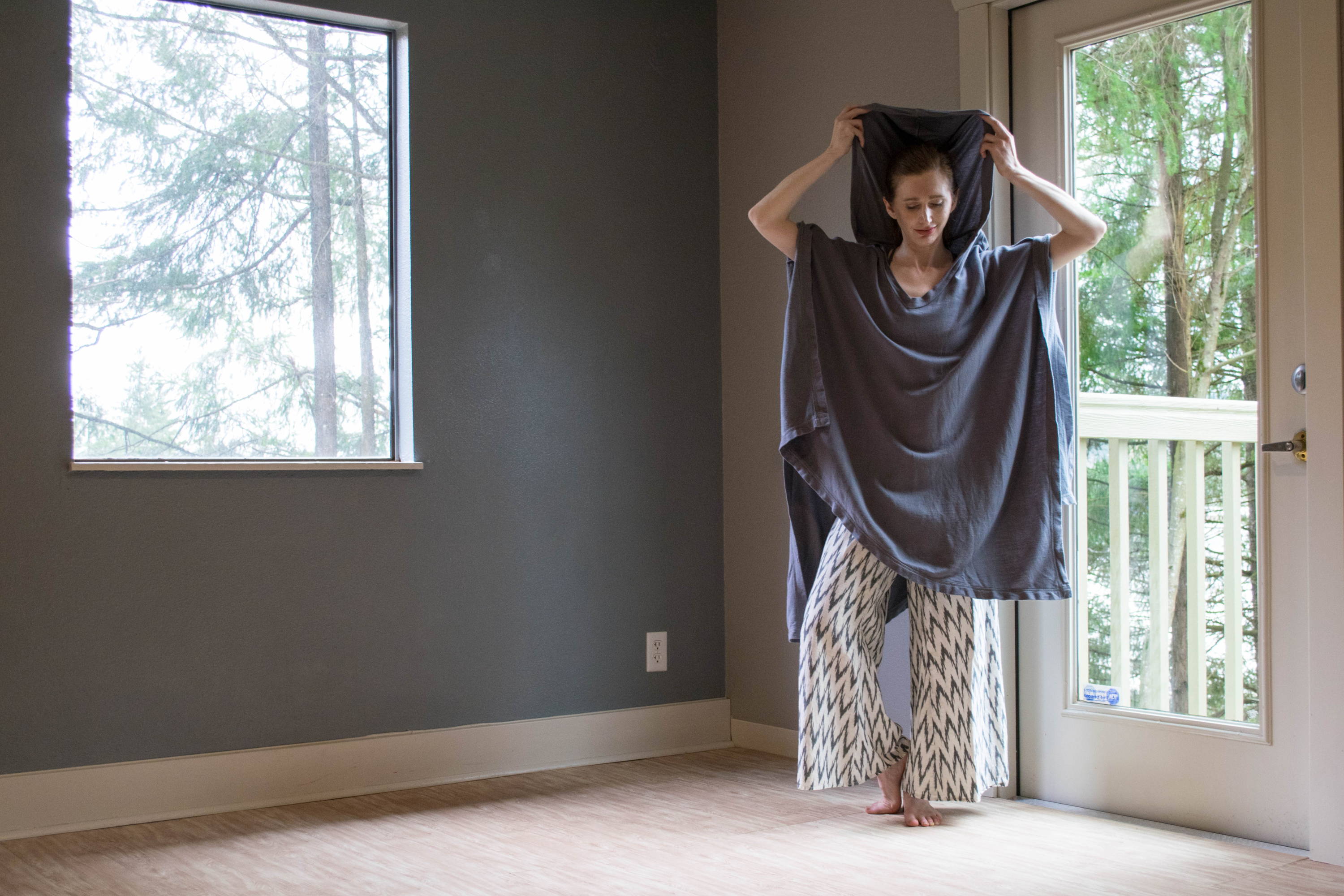 Bamboo Poncho: PERI | Fair Trade Pants: Passion Lilie
YOGA FOR ALL
During yoga teacher training I would sweat my way through 2-3 complete outfits a day (and multiply that by 3 days per week for 10 weeks, and that's a lot of yoga clothing!). Luckily, buying a new yoga wardrobe is not necessary to bring mindfulness to your mat.
Swap: One woman's trash is another woman's treasure. Swapping with friends, family, or colleagues is a fun and easy way to (vegan) beef up your wardrobe. Host your own or or see if there are any local swaps in your community. I have found some of my favorite yoga pieces at swaps!
Thrift: Second hand yoga clothing gets a bad rep but it's one of my favorite ways to create the wardrobe I want without breaking the bank. With some hot water and cruelty-free natural detergent (and maybe a quick smudging), it's practically new!
Chill: You don't actually need special clothing to do yoga. Sure, it's nice to have a really supportive bra, or cute legging, but yoga has been around for thousands of years, long before spandex. So use your PJs, or sweat pants, or old t-shirts, or anything in your closet that's loose and comfortable. As long as it lets you easily move (skinny jeans probably aren't a great idea), you're ready for yoga.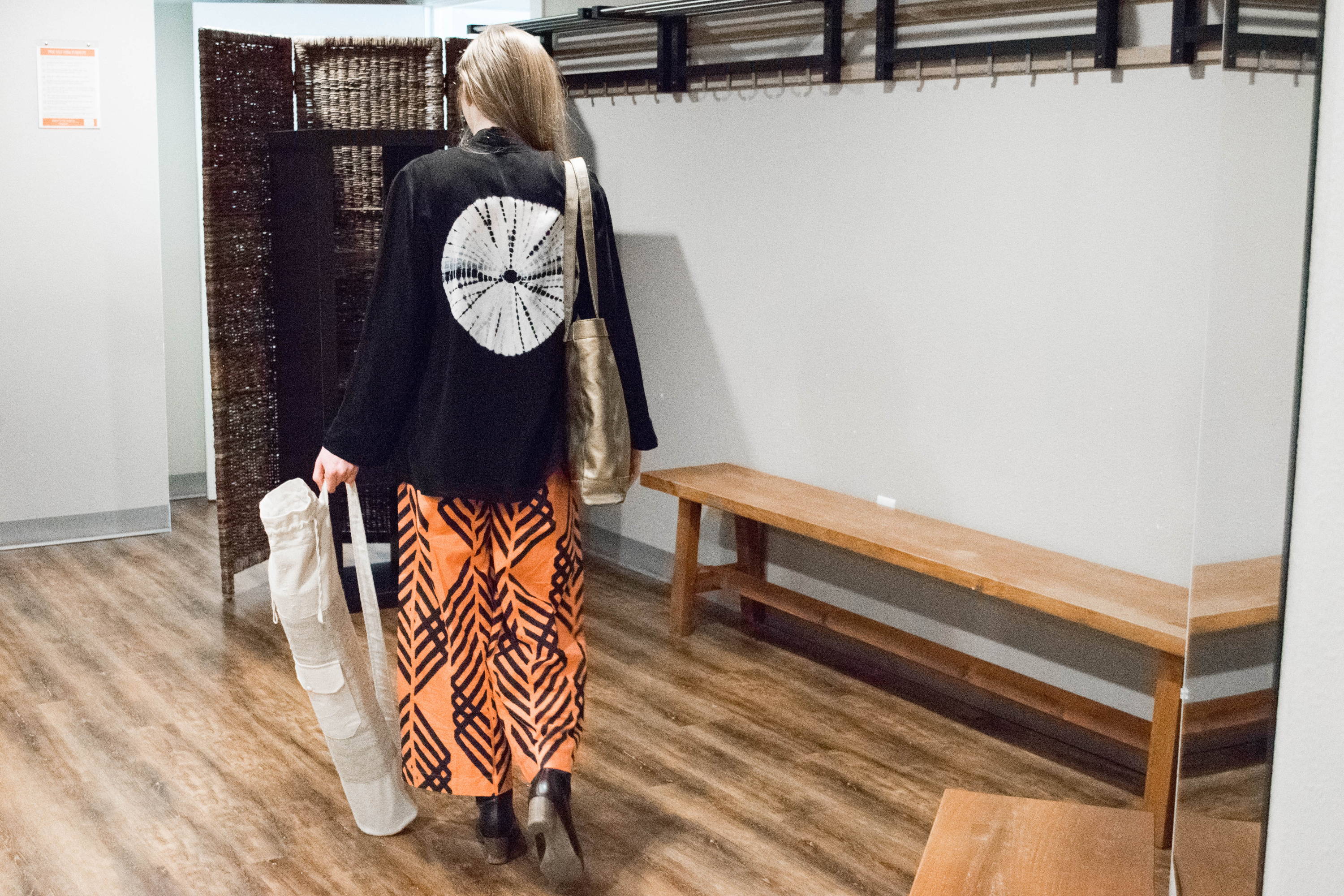 ---

A note on ethics in writing: 
Many of the items in this piece were kindly gifted to me - and you will continue to see them in future stories because I love to re-wear things. I may sometimes (but not always) use affiliate links in my blog when talking about products or services that I truly suggest, which means that I may get a small commission if you end up buying or trying something through a link I share. This is one of the ways that I continue to fund the stories and programs that Bead & Reel creates and supports.