You Really Have To Love Yourself To Get Anything Done In This World
Posted on July 29 2018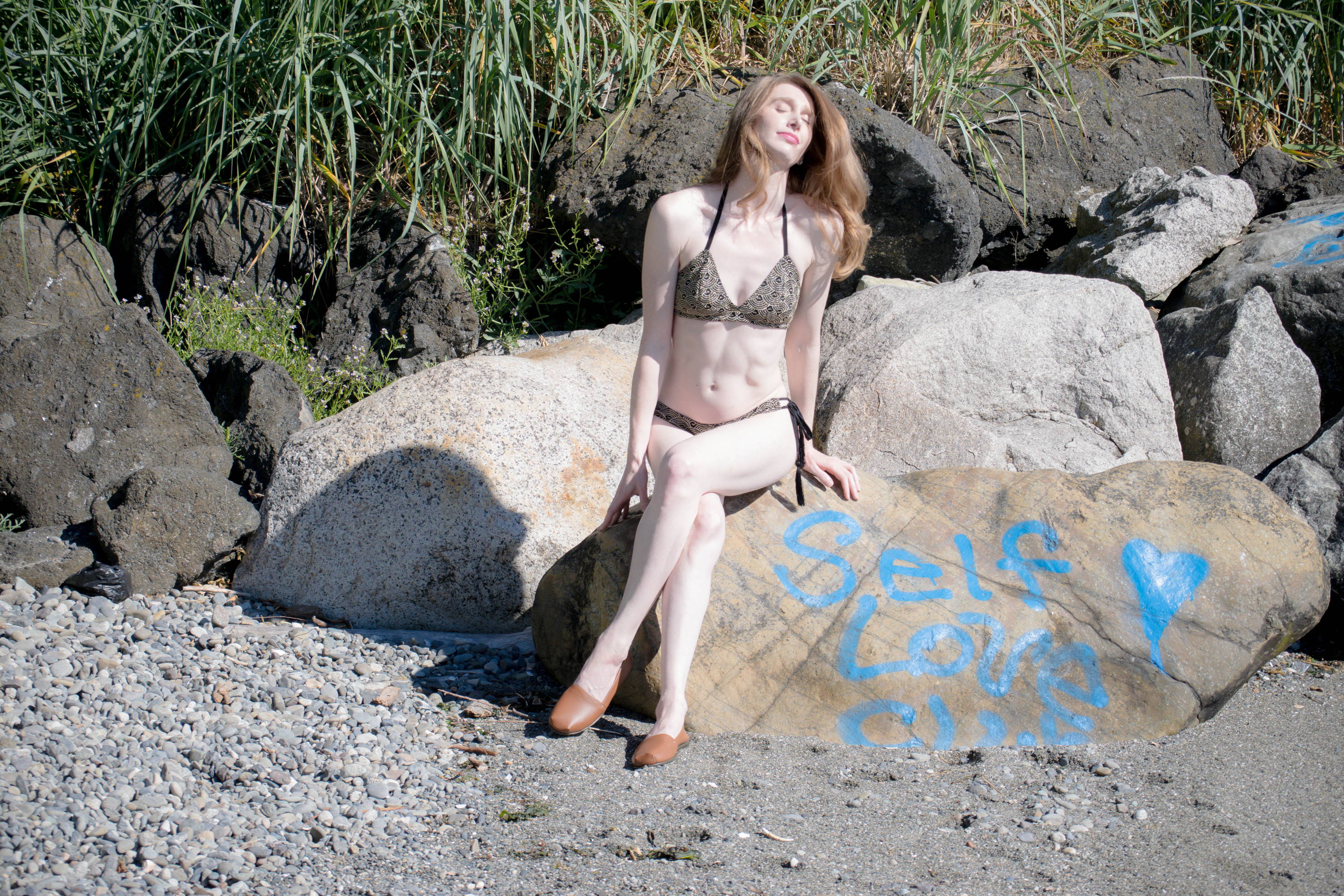 If you have a human body, or worse: a female human body, self love can be extremely challenging. Our entire culture (hint: the patriarchy) is built around no one ever being enough, having enough, and definitely never looking good enough. Which is tough, since that same culture also tells us that our entire worth is tied to how we look (and what we have), which, will never be enough, of course, so basically it's super normal to always feel terrible about ourselves, which is unfortunate and also totally exhausting.
And as if that wasn't big enough nonsense to overcome, throw in 1 in 5 women who have experienced sexual violence (which I have experienced) or the millions of people who have experienced an eating disorder (which I have not experienced, but know many who have) and suddenly self love becomes not just about overcoming ridiculous expectations but also about overcoming detachment and distain for the very body you inhabit.
Seriously, no wonder we're all so tired.
In my decade+ of working intimately with women and their bodies as a stylist and costume designer and now also a yoga teacher, it's become clear to me that no one escapes body issues. Even the women we view as being "perfect" (whatever that means), or the ones who seem so self assured. Every woman – every body – has experienced the feeling of lacking, and many have also experienced any number of other violences against it (from physical to mental to spiritual).
I recently started reading Overcoming Trauma Through Yoga by David Emerson and Elizabeth K. Hopper and loved this apology one woman wrote to herself: "some part of me told my body that I was sorry for letting it hold all that stuff alone."
Our poor bodies, we put them through so much, alone.
Or, I have anyway.
My own journey towards self love has been long and challenging. It took me well over a decade after being raped to even realize how detached and disconnected I had become from my own body. It had become such a foreign object, and not one that I was particularly interested in being around (which is dificult, when…. it's your body and you're sort of stuck with it). It had become a tomb for my deep deep trauma, a painful and vestigial reminder of someone I could never be again. I spent years trying to numb this body with unhealthy work habits and unhealthy romantic relationships (if I was so busy with long hours and chaotic romances, maybe I couldn't ever need to actually connect with my body!). I spent years trying to change it with different hair cuts, or colors, or tans, or eyebrow shapes, or nail polishes. Or clothing styles. Hoping, on some level, that maybe I could find a way to like it again, if only [insert any body part here] were different.
I tried it all, and none of it actually helped.
And don't get me wrong – I'm all for grooming (and yes, still a feminist - another topic for another time), and I think that how we present ourselves can be very powerful in how we feel about ourselves and how others see us. But, alone, these aren't anywhere near enough. We can never have an external solution for an internal problem.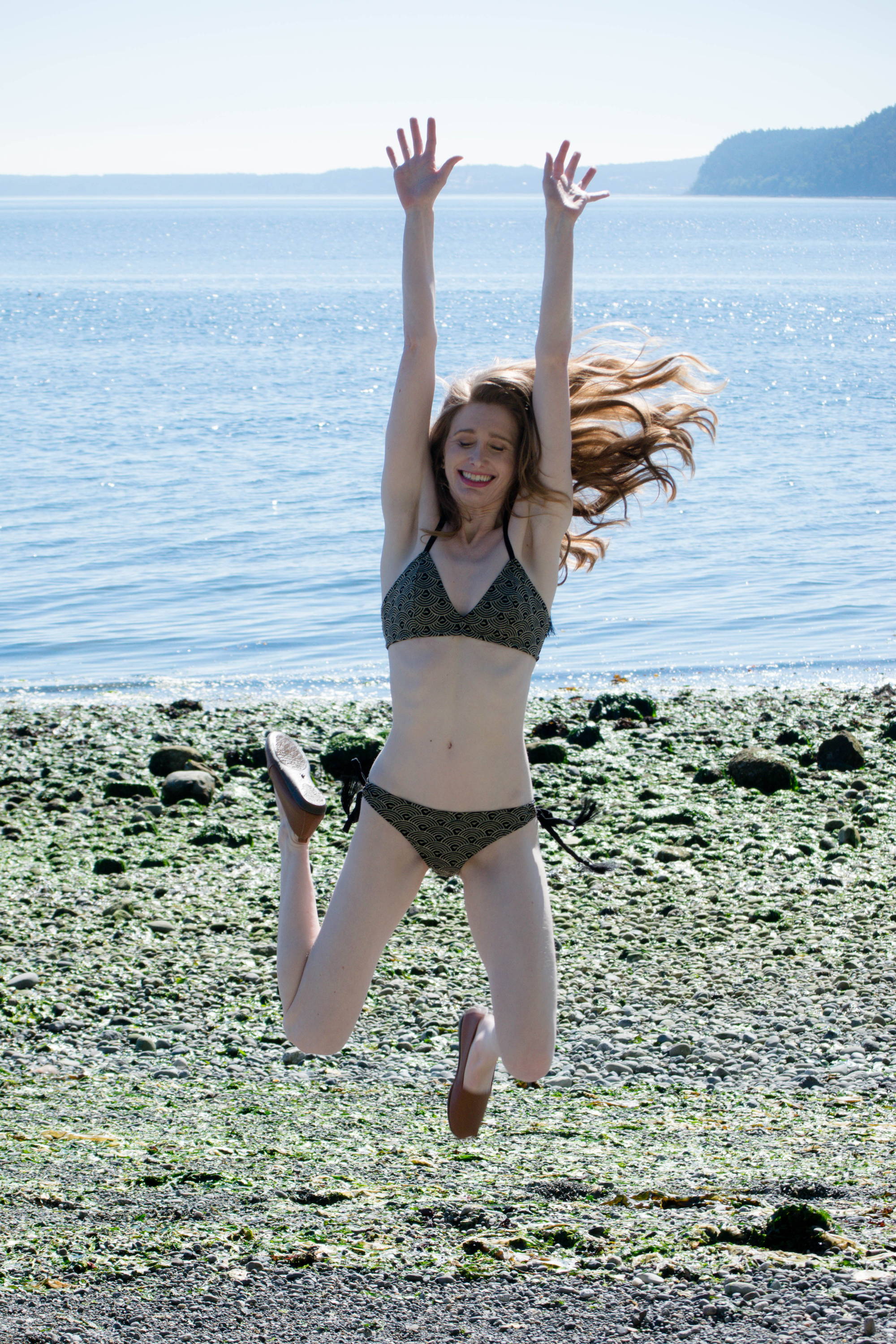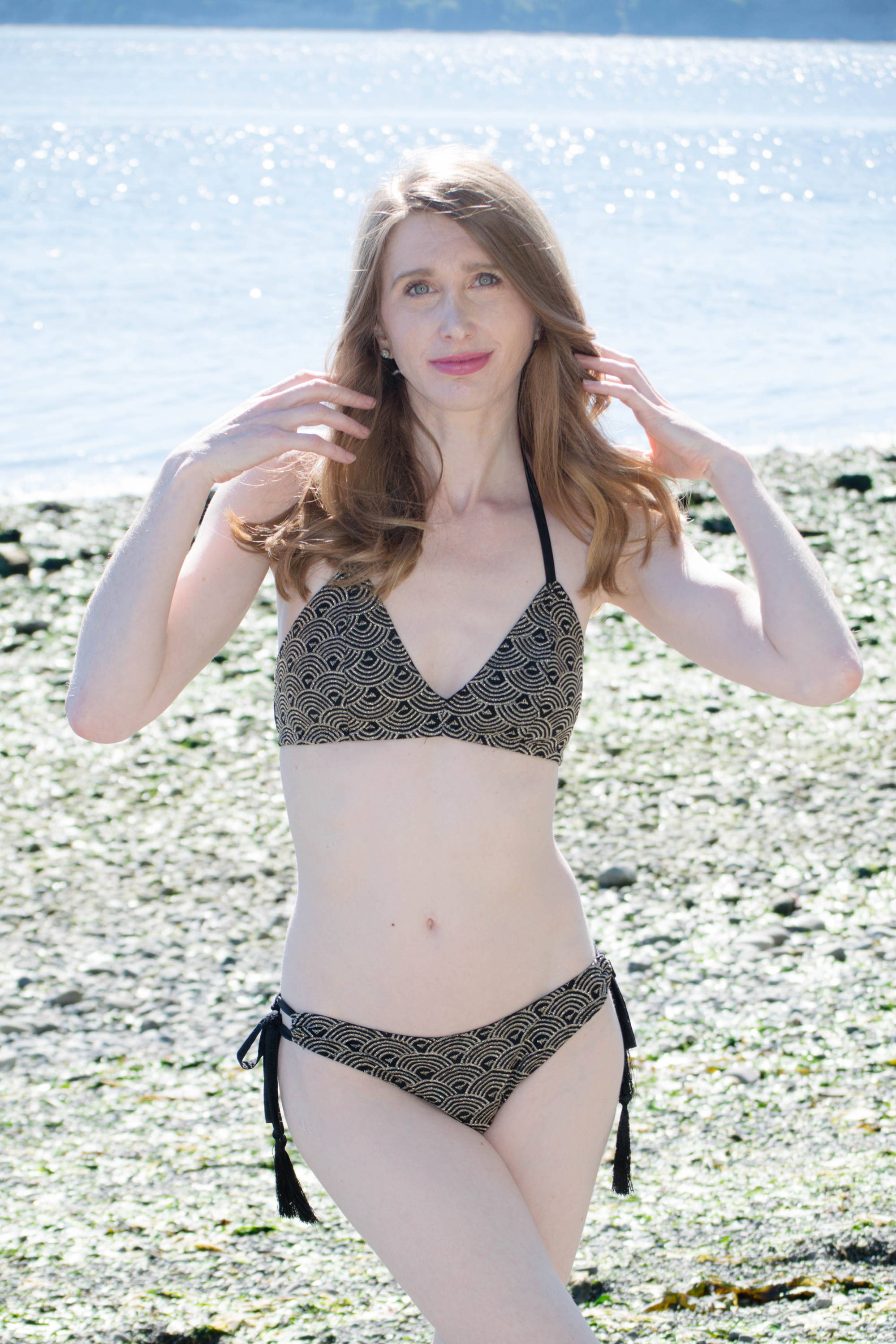 It's only in the past year that I started to truly explore deep self love. And I don't mean wanting to feel pretty all the time, I mean, I wanted to be in my own body, and be comfortable in my own body. Maybe even be in love with my own body.
It's been a huge focus for me, and, I still don't have a magic recipe for self love to share (sorry!).
The process has been long and slow and far from glamorous, starting with the 10 day silent meditation retreat I did last year, where I would spend hours and days simply scanning my body for feelings – and then feeling them – and then not doing anything about them (even the unpleasant ones – especially the unpleasant ones). After years of being numb and detached, it was totally not fun, and totally life changing, and ultimately helped me re-ground into my body for the first time in so, so long. And, I still have to do meditation every day, never quite done with this self love journey.
I then did back-to-back yoga teacher trainings over the course of 4 months. We store a lot of "issues in our tissues," and a serious yoga practice has helped me learn to open my body back up and release these long-held emotions, memories, and tissue-issues. And, I still have to do yoga every day, never quite done with this self love journey.
Recently I added in weekly trauma-informed massages, and while our sessions can be very challenging (emotionally and physically), I think bodywork - being touched by another person who you feel entirely safe with - is extremely important for anyone who has experienced physical trauma. And, I still have to do regular bodywork, never quite done with this self love journey.
And while I don't know that we ever reach a place of self love completion, I no longer feel the need to hide behind dyed hair or dyed skin, or change how I look to satisfy a cultural expectation. I no longer feel the need to hide from my body with external distractions or internal detachment.
"Love yourself first and everything else falls into line. You really have to love yourself to get anything done in this world."
- Lucille Ball -
And all of this has somehow brought me back full circle to ethical fashion. As I come home to my body, I have found it even more important to surround my body in things that feel like love, not just for myself but for others too through fair trade and vegan choices. What I eat, what I wear, these matter to me more now than ever.
It's like the more I learn to love myself, the more I feel the need to love everyone in the world, too, and my purchases are a part of that.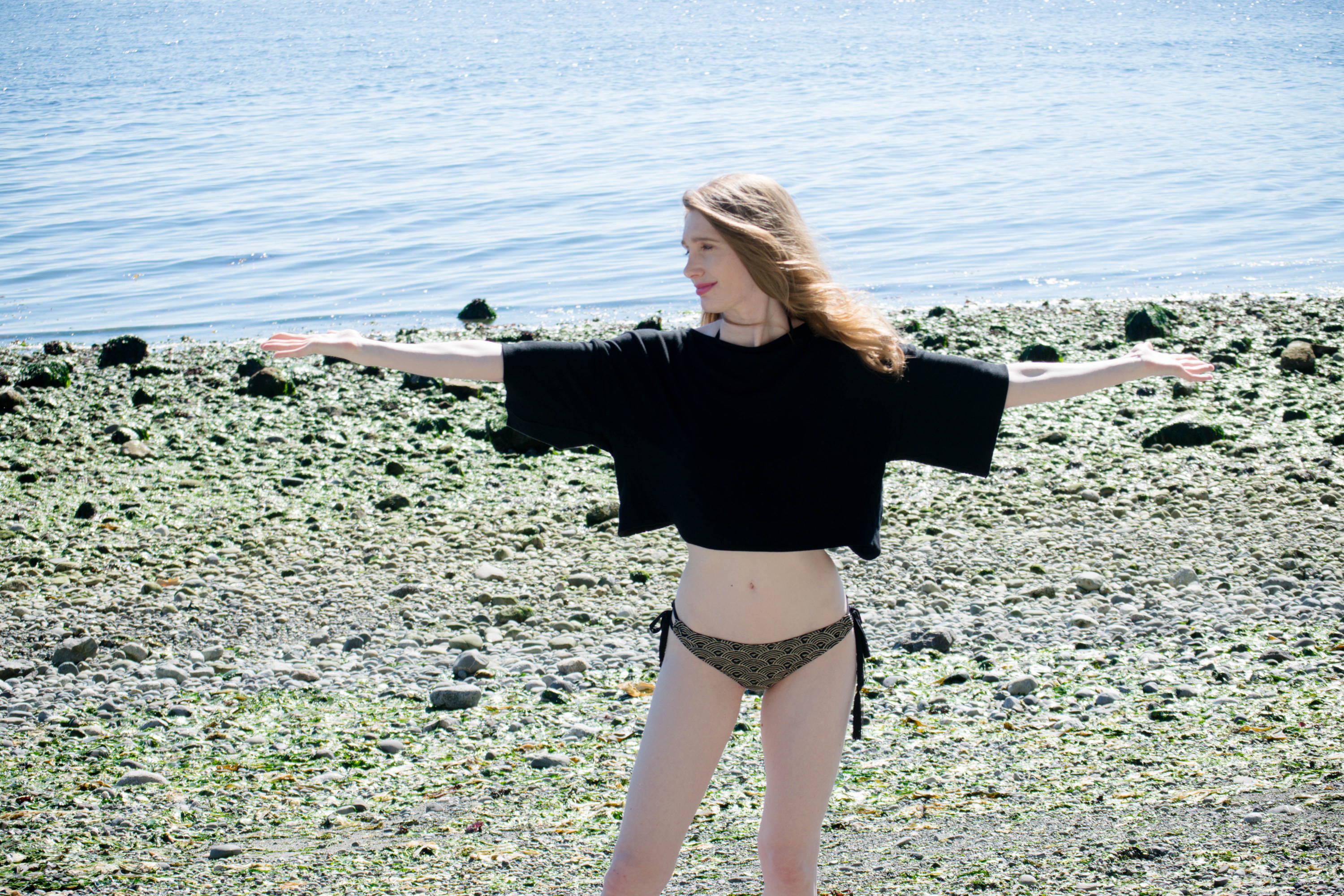 Perhaps all our journeys - all our healings - always leads us back to the realization that all things - all beings - are connected, and I hope each of us can be brave enough to take on the journey of self love both for our individual as well as collective wellbeing, knowing that our bodies don't need to hold all that stuff alone. We don't need to hold all that stuff alone.
Much love to you on your own self love journey.
---
Photographer: Eileen Schmitz
Make-Up Provided By: EccoBella
Location: Port Williams Beach, Sequim, WA
A note on ethics in writing: 
Many of the items in this piece were kindly gifted to me - and you will continue to see them in future stories because I love to re-wear things. I may sometimes (but not always) use affiliate links in my blog when talking about products or services that I truly suggest, which means that I may get a small commission if you end up buying or trying something through a link I share. This is one of the ways that I continue to fund the stories and programs that Bead & Reel creates and supports.